Your boating experience is better with the right boating equipment. Apart from a boat cover and docking lines, it's recommended to get the best boat hook. It's a tool for pulling and pushing your vessel, checking water depth, retrieving lines, passing items to another person, etc.
A boat hook is more than just a long pole with a spike or hook on the tip. To get a boat hook that's worth your money, keep these factors in mind.
As mentioned, a boat hook pole is utilized in many things that happen onboard. So, it's understandable that you should go after the multipurpose type. It's not a problem as there's a lot of options in the market. You'll be able to buy one that you can use to pull docking lines, retrieve objects, hang things, and more.
Choose a boat hook that can be handheld with no trouble. What I want to emphasize is the importance of versatility, ease of use, and convenience. A boat hook that delivers on these makes life onboard easier. Apart from a secure grip, the non-slip feature ensures that it won't slip from your hands. Nothing can spoil boating fun when you don't have trouble handling this tool.
Some marine hooks have a rubber tip. This feature is most helpful when using this tool as a boat dock hook as your boat won't have scratches when you dock and undock.
Quality and non-corrosive finish
A boat hook in premium quality guarantees long-term use. Furthermore, a non-corrosive finish allows it to last even with consistent saltwater exposure. The best materials that promise durability are aluminum and stainless steel.
Aluminum has a lower price, but it can be bulky and easily scratched. On the other, stainless steel is costlier, but it delivers outstanding performance.
Unexpected things can happen like accidentally dropping marine accessories, which will be hard or almost impossible to get back. Thus, in these cases, a floating boat hook is more reliable. With air chambers inside it, you won't lose it forever when you lose grip.
With these factors, you know now how to identify the ideal boat hook. You can choose one from the following list.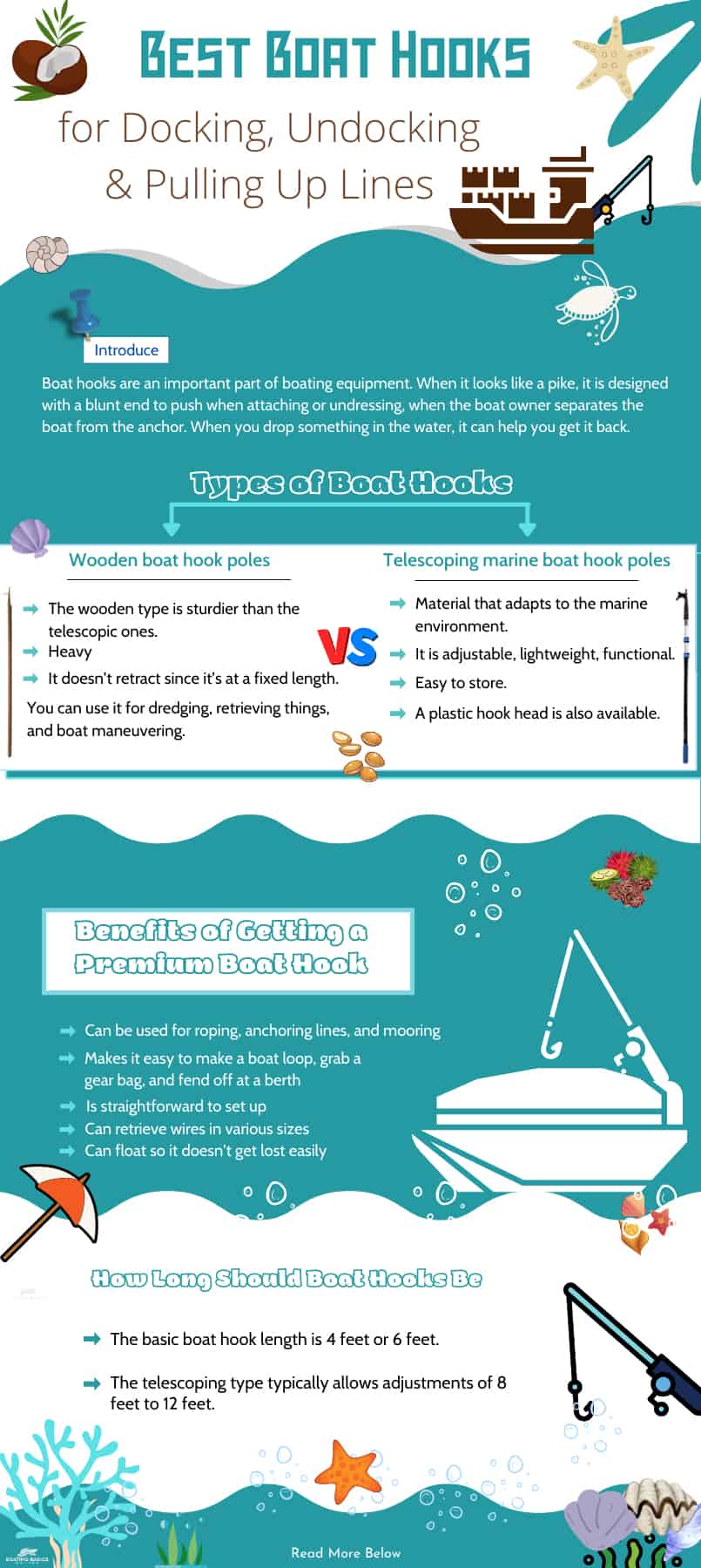 ---
EVERSPROUT Telescopic
The highest quality
3 different lengths
All-around utility pole
---
WindRider Telescoping
Various sizes
Designed to hold by a hand or two
Smooth to make adjustments
---
STAR BRITE Boat Hook
Durable, lightweight
Serve many purposes
Made of good materials
Top 11 Boat Hook Reviews
1. EVERSPROUT Telescopic Boat Hook
This possesses the highest quality among the telescoping poles in the market, and this is the most heavy-duty boat hook I've ever discovered. It's made of anodized aluminum that resists rust. Therefore, the one-year warranty provided for this product is reasonable. It weighs just 1.5 pounds, but you will be in awe of its sturdiness.
This telescoping boat hook can be extended until 25 ft. To start using, twist it and you can put it in three different lengths. I find it a breeze to change the length as it has latches similar to what tripods have. With the manual lock, there's assurance of maintaining its length. The non-slip handgrip is also excellent.
It transforms into more than just a boat hook since you can switch the end part to any tool. Hence, it's an all-around utility pole! It did a lot of things for me outside of the water. For instance, I was able to get my ball that was stuck on a 20-foot tree.
When I use it in my boat, it engages in various tasks. Docking and taking my boat out are both effortless. I don't have to struggle with protecting my boat as it doesn't bump or collide on pilings. Whenever I drop something in the water, I can get it back with little complications. There's no need to look for numerous rope hooks for boats as this does the job well.
It's one of the few hooks that float so you won't worry if you ever drop it in the water. But you have to retrieve it quickly within a 5-minute time frame.
What We Like
With the highest quality among boat hook poles
With a one-year warranty
Can be in three different lengths
With reliable manual lock and non-slip hand grip
All-around utility pole
Can float
What We Don't Like
Floating ability is only within 5 minutes
Among boat hooks for docking, this telescoping pole excels in quality and sturdiness. Using it is a way of making my boat safe.
2. WindRider Telescoping Boat Hook
The length of this telescopic boat hook is great to take in small boats as its shortest is 42 inches. Still, you won't be disappointed with its maximum reach, which is around 92 inches. You can lock it in three sizes. I can hold this pole with one or both hands thanks to the specially designed handle for easy handling.
I owe this multipurpose telescoping boat hook a lot when I go sailing. It helps me with many things aside from docking because its threaded end allows various attachments. Amazingly, it serves as another arm for a quadriplegic. It brings so much ease every time I pull in and out of the dock. Dropping by at refueling docking stops and recovering fishing jugs from the water have never been easier!
I also admire its smoothness, which is similar to a traditional wooden pole. It's easy to twist and untwist when doing some adjustments. Things in the boat are not under my control all the time. A crew member sometimes forgets to tighten the extension but it doesn't slip when working on docking lines. So, I can say that it's exceptional among boat hooks for rope in the market. That's why the manufacturer is confident to provide a lifetime warranty.
It remains lightweight and floatable despite the feel of ruggedness and durability. The nylon hook is incredible as it can return to its normal shape even if it got jammed at a severe angle. So, take note that it can handle only a fair amount of strength and pressure to prevent this circumstance from happening.
What We Like
Can be in three, various sizes
Designed to hold by a hand or two
Multipurpose with its threaded tip
Smooth to make adjustments and lock
Lightweight, floatable, and durability with a lifetime warranty
Nylon hook returns to normal shape when jammed
What We Don't Like
Can only handle a fair amount of strength and pressure
I can't ask for a better boat rope hook than this Windrider telescoping boat hook that makes docking smooth sailing. It also doesn't slip easily even though it's unlocked when mooring lines!
3. STAR BRITE Boat Hook
This Star Brite boat hook has served many purposes, which is why it's one of my favorites. I don't need to test other mooring hooks for boats as it's functional every time I dock and leave from the marina. It also helped me reach things and avoid obstacles. Besides grabbing lines, it can be used for other tasks outside the boat.
Although this extending boat hook is always exposed to saltwater, no rust occurs to cause malfunctions between closing and opening the pole. It's also good to use in freshwater, especially for pulling fishing noodles from the river. Its minimum length is four feet but it can extend to eight feet. This length is enough for me but I wish that it allows for a different attachment as I sometimes like to use a smaller hook.
Even so, I have never encountered issues with the fast locking mechanism and its strength even though I pulled things hard. Furthermore, it can handle the stress applied when clinging on a surface or snagging dock. These wonderful qualities are thanks to its marine-grade aluminum build.
The hook on its tip is also well made of unbreakable glass with reinforced nylon. Being durable doesn't make it hard to use. It's lightweight and comfortable on the hands so it's not inconvenient at all.
I once accidentally dropped it in the water and I witnessed how it floated. However, retrieval must be done quickly as it only stays afloat for a few minutes.
What We Like
Serve many purposes in a boat and other situations
Good for both saltwater and freshwater use
Has enough strength and a good locking mechanism
Made of good materials to handle stress in some tasks
Durable, lightweight, and comfortable on the hands
Can float for a few minutes
What We Don't Like
Can't attach a smaller hook
The length of this hook works for me in so many ways. It's just sensible to buy a few of these for household use.
4. Better Boat Boat Hook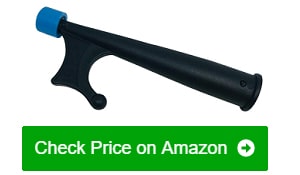 The outstanding quality of this boat hook is not only great for regular vessels but also larger boats. You may get it with a telescoping pole that doesn't disappoint because it has a long reach. As a tall guy, my shoulders don't get strained easily when pulling lines, anchoring with other boats, and leaving the dock.
It's also reliable in checking water depth, especially when you don't trust the transducer. You can put it at a length that meets your needs. Despite the various lengths, the twist-lock mechanism guarantees security.
Though the threaded tip is limited to ¾ inches, it remains versatile. You have to unscrew when you need to replace the tip with other stuff. My wife was so happy about it since she can connect the pole with a mop or a standard broom for cleaning the house. It seems that it has a universal threaded tip as you can attach the hook to various poles.
My previous hooks make me feel nervous every time they fall overboard. But not this one does not as it floats. I can easily detect its location due to its bright blue color. I'm not clumsy but I need to make sure that I don't have to buy a new boat hook from time to time. I know it can serve me for many years thanks to its durability.
I also like how it can hold onto the dock well. You can let a person grab it as a leverage to get onboard. I gifted these to some of my fellow boaters and they agree with me that it's reliable all the time.
What We Like
Suitable for all sizes of boats
With long reach
Used in boats, cleaning the house, and more
Float and can easily be detected with its bright blue color
Durable to serve for many years
What We Don't Like
The threaded tip is limited to ¾ inches
I got both the boat hook and telescoping pole and I think it's a good decision. It's a must for every boater as it works with any boat size.
5. SEACHOICE Aluminum Boat Hook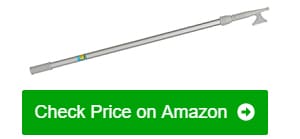 Recognizing the usefulness of this product, I can say that it's one of the top-rated boat hooks in the market. There's nothing to complain about its 6063 aluminum tubing that comes with maintenance-free service and a glass-reinforced nylon hook. I witness that the hook is sturdy every time it clasps on something.
This dock hook for a boat is not only favorably solid but also designed for convenience and optimal ease of use. I feel comfortable holding it since it's lightweight and the non-slip grip makes it secure. Based on my experience, it's fine to hold in one hand. Docking and undocking is a breeze because of it. With its 4 or 7 feet in length, I don't need to hoist myself when reaching for things.
I haven't encountered issues when collapsing the pole and extending it. The rubber handle prevents the cap from sliding down when putting it in its short length. During expansion, you won't be bothered as the locking system is pretty good.
When boat owners look for boat hook options, floatability is one of the important features. This proves as a functional boat hook but you need to devote time and effort to maintain its buoyancy.
I injected foam into its inner part after I removed the handle. Then, I sanded the section of the tube that meets the handle. I applied glue on it before putting back the handle. To complete the job, I added pool noodle foam to the pole's exterior part.
What We Like
Pole solid construction and hook sturdiness
Designed for convenience and ease of use
Works with one hand
No issues when collapsing and extending the pole
What We Don't Like
Work on making it buoyant
The aluminum construction and sturdy hook of this Seachoice boat hook ensure efficiency. Only a quality product like this won't disappoint you. With its ease of use, it won't ruin the fun that you have in the waters.
6. Camco 41914 Telescoping Handle
I didn't regret buying this boat pole hook; it's worth every penny considering the level of quality. The anodized aluminum construction has resistance against rust for long-term service. Unlike other boat hooks, it doesn't bend or come apart when being used. Its versatility is promising as well since it's not only useful in boats but also in homes, pools, and RVs.
The pole length can be 5 or 9 feet long. It's an essential tool whenever I push and pull my boat to dock or leave the slip. Aside from helping me keep my boat safe from scratches and damages, it's useful in cleaning. Its length allows me to get into sections that are hard to reach. Thus, I don't need to bend too low.
When it comes to holding this long boat hook, I can attest to the better grip since it's oval-shaped. The head is interchangeable so you can turn it into a cleaning tool or other things. Of course, the boat hook tip has a lot to offer.
This one has a unique tear-drop design, which is not great for some places. I said so because it grabbed the mooring cleats at a marina once. If it ever happens again, I think I will pile the ball-like parts. But it doesn't get in the way when pulling in the boat at a slip. It hasn't happened again because I'm always careful.
What We Like
High-quality construction
Has resistance against rust for long term service
Doesn't bend or come apart when being used
Versatile as it's used in different places and situations
Oval-shaped for better grip
Has an interchangeable head
What We Don't Like
The ball-like parts on the hook can grab unintended things
Once you start using this, you'll be convinced that this is the only boat hook you need. Two thumbs for its construction!
7. SAN LIKE Telescopic Boat Hook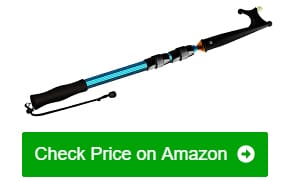 The length of this telescopic, extendable boat hook is useful and convenient in so many ways! You can expand it to 6.75 feet for docking, reaching things, and a lot more. It can collapse into a manageable size to save some space, too. Thus, I can keep it in my rod holder.
It's relatively lightweight and not heavy to carry. There's a lanyard on the handle so you can hold it even when your hands are slippery. Due to the foam on the handgrip, it ensures comfort.
It doesn't only work on the usual case of docking and leaving the slip. I'm amazed at how it continues with the task even when there's a strong current or wind at the docking area. You can trust it in poorweather. Thanks to its strength that comes from rust-resistant,heavy-duty metal. Furthermore, it suits every boating lifestyle.
It's the right boat hook for fishing on floats and I typically use it to get things from my pontoon. Its usage is not limited to boats; it has other purposes such as hanging things. However, you have to make sure that it's tight before using it. It collapsed once when I was trying to reach a mooring line on the other side. I realized that I didn't give much attention to tightening it.
Another thing that I love about this fixed boat hook is its floating ability. Dropping it in the water can't be avoided. It happened a few times but I was able to retrieve it.
What We Like
Telescopic to reach things and can collapse for easy storage
Lightweight, comfortable, and anti-slip
Not bothered by strong current or wind
Has plenty of strength from heavy-duty metal
Suits every boating lifestyle
Has floating ability for easy retrieval
What We Don't Like
It can collapse when not tightened before use
The pole and hook are together permanently but thankfully, it's not in a fixed length. You'll surely appreciate it no matter what your boating style is! It reminds me of a pike pole.
8. Attwood Aluminum Telescoping Boat Hook
There are a lot of telescoping boat hooks in the market but this is my favorite. The enjoyment of sailing and fishing is not ruined because of it. Therefore, this is a marine accessory worth investing in. Its appearance reminds me of a West Marine boat hook but I think it's much better.
The top-quality aluminum tubing is spectacular because it remains tough despite exposure to harsh conditions. So, there's no question about its durability even though I use it often. Surprisingly, it's very lightweight despite the strength that it shows. Hence, it's handy when I go fishing alone. I always use it when pulling my pontoon to get closer to the dock.
I'm glad to have discovered that this is not only for the marine environment but also on land. It works like a cane as it helps me with my balance when I walk over a floating dock. My mom loves it as she's able to tend bird feeders in her yard. It's an ideal reach bar due to its rubber vinyl grip.
It contracts to a size that doesn't demand too much storage space. I find the 5.5 feet extension sufficient for my boating needs. Boat hooks can get wet since it's for sailing or fishing. With its molded ribbing, I don't have problems twisting and grabbing it even if the pole gets wet.
You don't have to fear getting it in contact with your boat as it won't mar or leave scratches. Since it's not floatable, you have to be careful when using it.
What We Like
Has top-quality aluminum tubing
Remains tough and durable despite exposure to harsh conditions
Used for other things aside from the marine environment
Contract and extend up to 5.5 feet
With molded ribbing to easily grab and twist the wet pole
Doesn't mar or leave scratches
This tool has never disappointed me; it helps me a lot when I go sailing and fishing. I have two more of these for my yard and house.
9. Shurhold 130 Boat Hook
I have had wonderful experiences with this uniquely designed 3-in-1 Shurhold boat hook. A basic boat hook, centered push-off, and a line carrying feature constitute this tool. It has an exclusive style that is not only for retrieving and setting dock lines. It's lovely as it helped me get through a tight slip. I use it in making a boat loop just like what a Robship hook can do, as I have read from the Orbold dock hook review.
When you need to grab a handrail or shroud, you have to twist the end prongs. I can attest that this is useful in passing things to another person. I can use this hook to pick trash that floats in the water! It's also used to check the water depth. As you can see, it's undeniably multipurpose.
You can connect the pole or the hook to other Shurhold items. It favors users since you have the freedom to choose the length you need for large boats and even smaller boats. It's a breeze to remove the head for replacement. Take note that the hook alone can float but it won't once it's connected with the pole. It's not a problem with me as I'm careful.
I've been using this for over a year because it's well-made and rugged. Believe it or not, it served my uncle for 14 years. Its quality is no joke as it's stronger than what you think. You'll know once you begin using it.
What We Like
Uniquely designed 3-in-1 boat hook
Can make a boat loop
Undeniably multipurpose in the boat and other situations
Can connect either the pole or the hook to other Shurhold items
Well-made ad rugged to serve for many years
What We Don't Like
The hook won't float when it's together with the pole
I look forward to many years of sailing with this boat hook. It makes tasks super easy and all I can think of is having fun in the waters. You can only expect the best from a 3-in-1 item.
10. DocaPole Big Reach Pole Hook
I know that boat hooks are made for multi-purpose but this one takes it to a higher level. Due to its pushing and pulling patented design, there are a lot of things that you can do. That's why it's very handy when you're above the waters. You can depend on it for things other than docking properly and safely, like hanging Christmas lights.
I tried using it to clean the rain gutter and pull down moss or palm husks. It seems that the capability of this hook is limitless. I say so because I was able to get into all the hard-to-reach areas, as well.
I studied the whole thing and I confirmed that you can link it with an ACME thread pole, threaded pole, telescoping pole, and broom handle. It's great that there's a screw to secure the hook. I tried using it right after assembling. The stopper got stuck in the pole extension but it was easy to fix. Good thing that it only occurred once. I guess it happens during first-time use.
The structure of this telescopic pole hook is terrific. It's made of non-rusting zinc alloy that is solid and fire-proof. Since I looked at it closely, I can say that the hardware parts are high quality as well. Thus, this is one of the sturdiest boat hooks that you can find.
I have 12 feet and 24 feet Doca poles to meet my needs. So, I can always get things done and I have this tool in all of my boats. Based on what I said, the length of the pole is even suitable for larger boats.
What We Like
Multi-purpose into a higher level
Gives access to hard-to-reach areas
The hook can be attached to different poles
Terrific structure of non-rusting, fire-proof, and solid zinc alloy
One of the sturdiest boat hooks
Suits larger boats with 12 ft or 24 ft Doca poles
What We Don't Like
The stopper can get stuck in the pole extension during first-time use
As I continue relying on this boat hook when sailing, I think there's nothing as awesome as it. The appearance alone tells you that it can accomplish numerous tasks.
11. SEACHOICE Emergency Boat Hook
Apart from taking care of the mooring lines by using the handle as a hook, I can use it as a paddle.
I can adjust it from 26 to 72 inches. I put it in its shortest form to make it handy when keeping it in my small sailboat. It won't get in your way since it only takes up a little space. It can even fit in the front box of a jet ski.
It also suits my friend's deep boat as its length can be extended. But the length extension is much longer than the usual boat hook.
This item is well-made. Corrosion-resistant aluminum is used for the tubing and the molded paddle is tough. As a result, it can survive marine use. But I have to grind and sand it before I start using it. It's just a trivial process for the benefits that I gain from it. It's not only useful for boating and fishing but also water sports.
Despite being sturdy, it has a lightweight construction so it doesn't burden my arm even if I use it as a paddle. Since there are two forms, it can help during an emergency. I appreciate it a lot because I have a boat hook and a paddle in a single purchase.
What We Like
Can be extended up to 72 inches; longer than the usual type
Compact so it's convenient to keep it in your boat
Well-made with high quality
Can be used for water sports
Sturdy but lightweight
Can help during an emergency
What We Don't Like
Need to grind and sand before using
A hook and a paddle in one is a rare item. When something drops into the water while you're paddling, you don't have to freak out in looking for the right tool. You can grab it with the handle of the paddle.
Factors To Consider When Choosing Boat Hooks
Types of Boat Hooks
It's best to know more about boat hooks before you buy one. In this way, you can choose from boat hook options. The main types of boat hooks are wooden boat hook poles and telescoping marine boat hook poles. It all depends on your preference and boating lifestyle.
The wooden type is sturdier than the telescopic ones but it's quite heavy, especially when you carry it for a long period. Even so, you can use it for dredging, retrieving things, and boat maneuvering. Another downside is that it doesn't retract since it's in a fixed length. It will be a challenge to store for some users.
You can also rely on the telescopic type that's typically made of aluminum, which is a material that adapts to the marine environment. It is adjustable, lightweight, functional, and easy to store.
A plastic hook head is also available. Some boat hooks are made of stainless or rubber. Others have a soft vinyl top to not harm the hull.
Benefits of Getting a Premium Boat Hook
Can be used for roping, anchoring lines, and mooring
Makes it easy to make a boat loop, grab a gear bag, and fend off at a berth
Is straightforward to set up
Can retrieve wires in various sizes
Can float so it doesn't get lost easily
What Does A Boat Hook Do
A boat hook is a vital piece of boating equipment. It looks like a pike pole but is designed with a blunt tip for pushing when docking or undocking. It's also handy when a boat owner separates the boat from the anchor.
When you drop something in the water, it can help you with the retrieval. You'll find it effective in fetching tasks once you know how to use a boat hook.
How Long Should Boat Hooks Be
The basic boat hook length is 4 feet or 6 feet. The telescoping type typically allows adjustments of 8 feet to 12 feet. The standard length is applicable when accessing things, docking, and fending. But there are variations depending on how and where you will use the boat hook.
How To Make A Boat Hook
Do you ever think of a DIY boat hook? When you spend a lot of time at the dock, you would notice boaters settling for a makeshift hook. They may opt for a shovel but it's not ideal for the purpose. It's still advisable to get a boat hook.
Conclusion
The best boat hook makes a difference in your sailing experience. Comfort, convenience, and trouble-free movements are the remarkable benefits you can gain from it. So, you will just focus on enjoying every moment in the trip.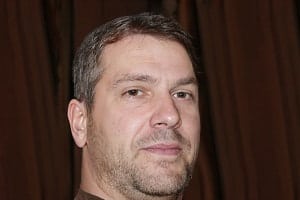 "My intention from the first day establishing Boating Basics Online is to provide as much help as possible for boaters who want to experience a first safe and convenient trip. So feel free to join us and share your beautiful journeys to the sea!"