One way to prolong the lifespan of your boat is by buying the best boat cover for outdoor storage. Your boat and its content, such as motor or engine, will be well-protected from the sun rays, rain, snow, and other harmful outdoor elements. Thus make sure that you get a cover that fits your boat well.
Your boat is an investment so it's reasonable to take care of it. Moreover, it's not desirable to spend more money on some parts that needed fixing. That's why you have to think carefully about how you'll store your boat outdoors. Even though it's not in use, providing protection is still a must.
By comparing the best boat covers in this review, you'll surely get a good deal. Read on so you'll get the one that suits your boat the most.
---
MSC 11002008-11002125
Not bulky to handle
Made of medium weight
2-year warranty
---
iCOVER Trailerable Boat Cover
Easy to put on
Has air vents
Stable hold
---
Classic Accessories Boat Cover
Can be used on a trailer
For different kinds of boats
5-year warranty
---
Top-Rated Boat Cover For Outdoor Storage Reviews
1. MSC 11002008-11002125 Marine Polyester Canvas
Even though this is a heavy-duty boat cover with double stitches, it's not inconveniently heavy. The 600D polyester canvas used in making this product is medium weight. It's also thick enough with double PU coating to protect my boat but not too bulky to handle.
I was worried at first as one of my vessels has a different stern style, unique windows, and side mirrors. But to my amazement and relief, it fits my Regal 2100 LSR bowrider! To conclude, it's the perfect cover for boats with an outboard motor. It doesn't leave the boat's topside bare due to its elastic waist along with plenty of straps. Hence, I can easily put it on without needing assistance from another person.
It's designed for mooring and highway travel. But the most amazing part is that it's made to last. I said so because I use it the entire year without getting worn out despite exposure to direct sunlight, rain, snow, and storms. No water pooling was seen on it with the help of the boat support system that I bought separately.
Without a doubt, you can depend on its quality as it has a two-year warranty. I know for sure that it can serve me for more than two years. Furthermore, there's no reason not to like this product because it's available in various sizes. Therefore, you can find one that suits your vessel.
This boat cover is available in various colors and I bought different ones. Sad to say, the blue color does fade. Nonetheless, it can still protect the boat well when stored outdoors.
What We Like
Heavy-duty with double stitches
Made of medium weight
Not bulky to handle
Can fit vessels with an outboard motor and those with unique styles
Made to last with a 2-year warranty
Because of what MSC created, I don't have to buy boat cover now and then. I was able to save money as I own several boats.
2. iCOVER Trailerable Boat Cover
Indeed, this boat cover provides maximum protection for the outdoor storage of vessels. Every time I pull it off, I can find a dry boat free of any mess. That's why I'm confident to leave my boat outside with it as the covering. I benefited a lot from it, but I only spent a reasonable amount. Not all affordable boat covers are as reliable as this one.
It has straps and clips for stability despite the presence of wind. I live in an area where it's windy most of the time so this feature is very important for me. On the other hand, I didn't have a hard time putting this on my boat as the dual straps are easy to tighten. There's not much work to do. However, I did some cutting and sewing in a zipper, slits for the cable, and a collar for the mast.
Most days are sunny in my neighborhood but it's fine to place my boat outdoors because of this cover. There are several color options to choose from, and I picked the silver one, which turns shiny due to sunlight's reflection.
With the air vents on this cover, the moisture can escape. Thus, I know that the things inside my boat are not prone to mold and mildew. Most of all, I don't have to worry about the safety of my boat's engine due to the double-stitched seams; water can't get into it. There are also protective reinforcements on its corners. I made a support system out of PVC pipes to prevent water accumulation when it rains or snows.
What We Like
Has a stable hold despite blowing wind
Easy to put on with the dual straps that can be tighten
Has air vents so moisture can escape
Have double-stitched seams to prevent water from getting into the boat
With protective reinforcements on its corners
What We Don't Like
Need to do some cutting and sewing for some parts like cable and mast
By owning this outdoor boat cover, I do not need to check my boat outdoors all the time, since it adheres well on the vessel. Hence, you can trust that this outdoor boat cover won't just be blown away by the wind.
3. Classic Accessories StormPro Boat Cover
There are many benefits that I've garnered from this breathable, 100% polyester boat cover. It even faced strong storms while on a trailer. I was going at a speed of 80 mph for 1,500 miles without trouble. A table and some chairs were loaded in the boat one time and when I arrived home, they were dry.
It has a snug fit to ensure that it can protect your boat. Kudos to the straps that are placed in the right position and the tightness of its elastic cord! This cover is great for vessels with windshields or none at all. You can use it on those with outboards, V-hull runabouts, and more. I'm glad to find that there's space for some accessories like running lights and bow rails.
Like the previous product, you can select the size that fits your vessel as there are several options. Various colors are also offered to suit your taste.
Since it can withstand a storm, it's reliable in surviving any kind of weather. There's no need for shrink wrap when winter comes, but it can still keep my boat dry and free of moisture. Even if it's under the scorching heat of the sun, nothing is damaged. So I can just place my boat outdoors all year round.
It's a good example of a heavy-duty boat cover as I can use it any time of the year. The 5-year hassle-free warranty is unbelievable! I'm happy about it because it's proof that it can last for a long time. I like this cover a lot but unfortunately, the pole is not what I expected. It's made of plastic and I'm afraid that it might break at any moment.
What We Like
Can be used on a trailer
Has a snug fit with straps and an elastic cord
For different kinds of boats
Reliable despite any weather
Has a 5-year hassle-free warranty
What We Don't Like
The pole that comes with this boat cover is not tough
I place my boat outdoors, wrapped with this boat storage cover. Thus, I find it effortless when storing my boat and I don't have trouble looking for a specific space.
4. Leader Accessories Solution Dyed Boat Cover
I'm confident to simply store my boat outdoors because of this cover made by Leader Accessories. This company has a reputation for producing incredible marine products. Thus, I was thrilled when I saw that this one has recent upgrades on its material. As always, Leader Accessories doesn't disappoint.
It's made of 600D solution-dyed fabric with double PU coating. A material like this promises optimum protection against damages and extreme weather conditions. Just make sure you get a suitable size for your boat and you can rest assured that your boats are totally protected.
Although it rains for days, I don't worry as my boat is taken care of under its custody. I also added pole support to prevent water or liquid from pooling.
With the help of straps and stitches on the buckles, I was able to use it with my boat for a 300-mile round trip. Although I go 65 to 70 mph, no signs of fraying and tearing appeared.
Straps are quite long to wrap around a boat trailer. Thus, it is undeniably made for tying and wrapping to avoid flapping. To ensure nothing can get through the cover, I inserted some padding on corners and sharp sections.
Water is the main problem for boat owners like me who store their boats outdoors. With the thickness of this cover, heavy rain doesn't have a chance to seep through it.
What We Like
Provides optimum protection against damages and extreme weather conditions
Waterproof so it can withstand continuous rain
With long straps and buckles to avoid flapping
No signs of fraying and tearing when used for trailering
Has two vents on its rear part for ventilation
What We Don't Like
Need to insert padding on corners and sharp sections
I believe that this boat cover is made for outdoor use; whether it's for storage when you don't have a garage or trailer. Due to the quality and performance of the brand, I'm an avid fan of Leader Accessories.
5. Anglink Waterproof Boat Cover
I salute the craftsmanship of this cover as it's great for providing the protection that my boat needs for outdoor storage. It has a capability to fight off heavy rain, wind, UV rays, and snow thanks to 600D marine-grade polyester. Furthermore, it's also tear-proof, scratch-resistant, and not prone to quick aging even exposed outdoors.
Anti-UV properties are found in its material. Hence, it can bask under the sun all the time. Also, this has colorfastness, so you won't be dreading that it may leave a stain on your vessel. As you can see, it's well-made; hence outdoor storage is not a problem anymore. Not to mention, the two-year warranty gives you assurance for all your concerns.
The hem is strong and elastic so it's effortless to place it properly on the boat. Moreover, there are built-in nylon straps and clips to let this cover hang well. But I don't use them frequently as the hold of the hem is reliable.
However, it could have been better if there's a gusset on the front of the cover to fit tightly on the marker light. I let go of this small flaw as I've achieved what I want by adding a PVC pipe system. It's only available in black but it's fine with me since this color doesn't catch dirt easily. When it comes to the size, there are two options which are for 14 to 16 feet and 17 to 19 feet. A web storage bag comes with this boat cover so I can keep it properly when I'm on the waters.
What We Like
Can withstand different kinds of weather
Tear-proof, scratch-resistant, and doesn't age quickly
Doesn't leave a stain on the boat
The hem is strong and elastic so this cover has a nice fit
Comes with a web storage bag and two-year warranty
What We Don't Like
Could have been better with a gusset on the front
Only available in black color
I like how this cover clings on my boat and it never allows a single drop of water to get into my boat. Outdoor storage is no longer my problem since I started using it.
6. NEXCOVER NB4501D Boat Cover
I had to find a cover that can protect our boat just like how my late husband did it. As a beginner, I was glad to pick this product as it works as expected. I don't have trouble putting it on and I always attain the perfect fit for my bass boat.
To please everyone, it can be on various vessels like pro-style bass boats, the ones with V hulls, and used for fishing or skiing. I also like how it provides room for trolling motors or even fishing seats.
Outdoor storage became convenient despite a lot of wind and snowstorms in my area. Cold cracking won't be a problem with this cover. Thus, it's not a bad idea if you add it to your winter boat cover support system. It can also go through harsh UV rays and even sand storms. With the right thickness, it's durable to last for a decent amount of time. So I can say it's worth the money!
This cover tightly snugs on my boat as it has endured the impact of weather changes. It's not only sturdy with a 600D denier but its straps as well. They continue to serve you without signs of tearing and fraying. The number of straps is more than what I need when it's windy. There are times that I find them cumbersome but I can't complain as they help the cover stay in its designated place.
As long as you have the right size for your boat, you'll gain complete protection from this cover. You'll find what suits your boat for sure as there are various sizes as well as colors.
What We Like
Can be used in different kinds of vessel
Snugs tightly with its straps despite a lot of wind
No cold-cracking so it can withstand cold weather
Can go through harsh UV rays and sand storm
Durable and for long-time use
What We Don't Like
A lot of straps can be cumbersome
You no longer have to spend time searching for a reliable cover for your boat as this one gives the right fit and enough room. It works wonderfully even when strong wind and storms come.
7. RVMasking Upgraded 800D Console Boat Cover
It's hard for some who own a boat with a center console to find a cover. Not to mention that the storage is done outdoors. Luckily, I was able to surpass these challenges when I found this product. It's with no doubt a perfect center console boat cover!
This cover is composed of an upgraded 800D polyester fabric mix with waterproof PU coating and anti-UV composite. Because of this material, it's waterproof. I'm amazed at how water-tight it is. It can face heavy rain without a single drop getting into the boat. Even if there's a strong wind, it remains snugly fitted on my 19-foot center console boat. Thanks to its elastic hem that delivers a custom fit.
To provide support, buckles and high-density Oxford ribbons come with this boat cover. I've noticed that the front and back sections are thickened. The manufacturer has done a good job as these parts are prone to tearing. Putting all these incredible parts together brings about durability. I believe that it can be with me in the long run.
Thus, it's just reasonable that there's a 3-year warranty offered for this product. A 90-day money-back guarantee can also be given to unsatisfied customers. All I can say is that I don't need any of them. But be aware that this is mainly designed for vessels with a very wide beam. It's the reason why the vent holes were displaced on the side of some vessels. Luckily, it's not a problem that I need to solve.
What We Like
Made for vessels with center console and very wide beam
Composed of upgraded, waterproof material
Has snug fit even when there's a strong wind
Thickened front and back sections to prevent tearing
Durable and for long-term use
Has 3-year warranty and 90-day money-back guarantee
What We Don't Like
Vents holes may be displaced on the side
This boat cover is what you need to cover your boat with a center console completely. The protection from it is fantastic as it doesn't give in to the strong wind and heavy rain.
8. Ogrmar Heavy-Duty Waterproof Boat Cover
I don't have a choice but to place my boat outdoors. This idea gave me worries which are now gone because of this boat cover. It's made of marine-grade 600D polyester canvas with waterproof PVC coating and UV-resistant properties. Whether it rains or shines, my boat is guarded against harmful elements. In addition, it has air vents, so the formation of molds won't be encouraged.
In winter, no cold-cracking occurs. Even though I use it all year round, tearing and fading don't happen. When not in use, you can place it in the free storage bag on every purchase.
I like how it snugs well on my boat even though it's an old model. The two sizes, 17 to 19 feet and 20 to 22 feet, can fit various kinds of vessels such as pro-style, tri-hull, V-hull, and a lot more. It's also recommended for trailering and mooring use.
The abundance of the straps is advantageous for users. They give me the chance to secure the cover as I can tighten them. Also, they're adjustable for easy installation. Then, it can be released quickly when I want to hit the water. I must say that it could have been better if there were reinforced windshield corners. It's not a big deal since the protection is tested and proven.
What We Like
Made of marine grade material with waterproof and UV-resistant coating
Guards your boat from harmful elements
With air vents to stop mold formation
No cold-cracking, tearing and fading even when used all year round
For trailering and mooring
Has adjustable straps for easy installation
What We Don't Like
Could have been better with reinforced windshield corners
I'm no longer in a dilemma when placing my boat outdoors. This boat cover is hardy against any weather so I don't have to move my boat indoors at a specific time of the year.
9. IC CLOVER 420D Oxford Trailerable Cover
This boat cover has three size options. Unfortunately, I got the one that is a size bigger for my 19 footer boat and I ended up not buying a cover for my motor. But still, the fitting is great and it's like a glove that fits nicely on a hand.
I'm impressed with its strength of facing heat in 80 to 90 degrees Fahrenheit. On the other hand, it's also apt for winter storage. It can face the strong wind and sandstorms too. In some cases, leaves and droppings from animals, that sometimes tend to climb on the covered boat, can't damage it as well.
It's well-made from 420D Oxford fabric and with double stitch seams; it's not vulnerable to tearing and seeping. These are features that give you a reason to use it multiple times without disfiguring it. What it can promise you is durability. Thus, it stands out among the many selections of boat storage covers.
If my boat had a V-hull bow, there would be a lot of extra straps. Since I have a square front, I added some bungee cords and clips to make it taut. After adding these things, I was relieved and satisfied. Anyway, the straps are adjustable and windproof so they won't give you a difficult time. What you have to know is that there's an elastic cord on the bottom hem. This part shows that you can use it for trailering.
What We Like
Covers a whole boat including the motor
Withstands heat, cold, strong wind, and sandstorm
Keeps your boat protected from leaves and animal droppings
No seeping and tearing due to its double-stitch seams
Durable so it's for long-term use
Can be used for trailering
What We Don't Like
May need additional straps or cords for some kinds of vessel
Having it as the best boat cover for outdoor storage is unquestionable since it can withstand various weather conditions. I don't worry about my boat whenever I need to leave town when duty calls.
10. Pyle PCVHP442 Boat Adjustable Storage Cover
I don't have a garage for the storage of my pontoons and tritoon, but my problem no longer exists since I found this product. I sometimes leave them docked at the lake with this cover. It's not just any other boat cover as it's composed of high-strength polyester hurricane fabric. This material is durable so it can deliver all-weather protection.
This boat cover does a good job in keeping my boat dry and clean. I sometimes leave some tools inside my pontoon and I don't need to worry about them because they stay bone dry. It has resistance to any kind of weather and it makes me feel at ease.
Laying it on my boat is pretty easy. Numerous D-rings support this hefty cover as well as an adjustable transom flap and elastic cord to obtain the appropriate fit. Installation is straightforward with straps that can be adjusted. There are quick-release buckles too. Hence, taking it off my vessels is simple.
However, I added bungee cords to hold the cover down. It all depends on the type of pontoon or tritoon. You may skip this step when unnecessary. It's only a matter of quantity because the straps are undeniably of high quality. One thing is for sure. It
can cover pontoons
and tritoons in all shapes and sizes.
What We Like
Composed of high-strength polyester hurricane fabric for durability
Delivers all-weather protection
Keeps boat dry and clean
Straightforward installation for appropriate fit
Can cover pontoons and tritoons in all shapes and sizes
What We Don't Like
More straps or bungee cords are needed for some pontoon models
This is the ideal cover for pontoons and tritoons. Nothing can beat its all-weather protection. It makes outdoor storage and placing my pontoon at the lake safe.
11. YAMAHA Outdoor Storage Boat Cover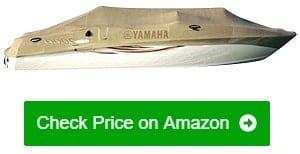 This boat cover is designed for outdoor boat storage and it has everything that you're looking for. I previously had an OEM Yamaha boat cover that lasted for over five years even though I used it all year round. It's quite impressive, so I bought this one with a limited warranty which I won't need.
It proves my belief right as it's made of ultra-durable material, namely Sur Last fabric. That's why it can provide the ultimate protection for my boat. I love that it repels water and fights off the harsh UV rays as well as fading. Let it rain or shine and my boat is safe outdoors with this cover. I'm happy that there are support poles that come with it to prevent water accumulation.
I appreciate that it provides protection and doesn't cause abrasion and even lessens air resistance. Hence, the seams don't have to be stressed by the surge of air if there's a strong wind.
Due to the 'Vacu-hold' design, I think this is elegantly made in exchange for having something like a vacuum inside. This design brings the snug fit and prevention of mold and mildew development. You'll be impressed with how it fully fits your boat! It's specifically made for Yamaha LS 2000 Jet Boat which is a 20 footer vessel. Sadly, this cover won't be compatible with longer crafts.
What We Like
With limited part warranty
Made of ultra-durable material
Provides ultimate protection against rain or water and sunlight
Free support poles
Not abrasive to vessel's surface
With 'Vacu-hold' design for snug fit and mold and mildew prevention
What We Don't Like
Not compatible with crafts that are more than 20 feet long
This unit is a durable boat cover and capable of providing much-needed protection for outdoor storage. It's boat-friendly as it doesn't cause abrasion but it gives the right fit.
12. Seamander 43238-125683 Trailerable Boat Cover
I prefer to place my boat outside, so a waterproof boat cover is appealing. It wasn't a mistake buying this one. After receiving this boat cover, I tested its ability by spraying it with a hose and the water just fell off. Due to its consistency in resisting water, it's proof that the first impression lasts!
This cover has a lot to spare for my 17-foot Glastron that has a 90HP motor. It's longer than the boat's length so the engine is also secured with its stretchy bottom. What's more, it has a thickness of denier marine-grade polyester. The material is not easily prone to punctures and tears.
It's also excellent in staying tough against different kinds of weather. Thus, you can never go wrong with getting it as your outdoor storage boat cover. It has survived rain, strong wind, and even storms. Hence, I didn't need to make adjustments to stop pooling.
One of the straps broke but it didn't abandon my boat. It's amazing how the cover remains in its place. To fix this matter, I used a tow strap for replacement. I figured it out when I used it with a trailer. Driving with it for a few hours to my favorite boating place didn't cause any problems.
You'll find this boat cover in multiple colors and various sizes to keep up with your preference and the vessel's size. Additionally, it's made with colorfastness so it won't stain your boat. Overall, I'm satisfied with it and I don't need to claim their 100% money-back guarantee.
What We Like
Waterproof as it can withstand heavy rain and storm
Has a stretchy bottom to cover the whole boat and the motor and stay in its place
Thick enough to resist punctures and tears
Can withstand different kinds of weather
With colorfastness, so it won't stain your boat
Offers 100% money-back guarantee
What We Don't Like
The strap is prone to breakage
Water is the main problem for boat owners like me who store their boats outdoors. With the thickness of this cover, heavy rain doesn't have a chance to seep through it.
Factors To Consider When Choosing Boat Cover For Outdoor Storage
Here are some factors that you have to look for when getting a boat cover for outdoor storage:
Measure your boat's length and width so you can pick the cover with a size that can fully cover your boat. It will ensure that there's enough protection against harmful outdoor elements. Don't forget to include aftermarket extensions. But you don't have to include rails, seats, and windshields when checking the length and width.
The fabrics that are perfect as boat cover for outdoor storage are vinyl, acrylic, canvas, polyester, poly-cotton, and more. You may also check the denier rating to confirm its reliability. Denier is the linear mass density of fibers in a fabric. A higher rating means more fibers on the cover.
The ratings, 400 denier and 600 denier, are usually found in excellent boat covers. A coating on the fabric is also important. PU or polyurethane coating is something you would like a cover to have. It intensifies the protection against water and UV rays. When it comes to seams, they should be double stitches. They shouldn't be easily exposed as they are the critical parts that connect the boat's section together.
Water and Wind Resistance
Moisture is expected to dwell outdoors and they are in the form of rain, snow, fog, or any liquid spillage. A boat cover is appealing if it's waterproof so nothing in your boat will get wet.
Windy days may rip a low-quality boat cover. Aside from its fabric, what can make it invincible against strong wind are additional straps, buckles, and locks. These are the things that prevent the cover from being blown away.
Reputable manufacturers will likely provide a warranty for their products. The warranty also ensures the cover's durability. It means that you don't have to spend more when there are unexpected repairs and replacements.
Various designs are created for boat covers. Easy installation is what every user wants. When it comes to a boat cover, the one with adjustable and quick-release straps promises straightforward installation.
Extra straps and a storage bag would be nice. Boats are in various models and shapes so some may require more straps. Also, when the cover is not in use, it's best to have a storage bag for safekeeping.
How Do I Cover My Boat For Winter
When your boat is in the freezing weather outdoors, you have to keep it protected, or else, there will be a disaster. What you have to pick among boat covers for winter is the one with the ability to brush off the cold damage or cold cracking. It should also be able to prevent moisture from growing in your boat.
How Long Do Boat Covers For Outdoor Storage Last
The lifespan of a boat cover is likely the same as the duration of its warranty. Cases will be different for every brand. Based on estimation, boat covers for outdoor storage can last from a year to 10 years. Some may even last for 15 years. The fabric should be evaluated to determine the longevity of a cover.
Conclusion
Fabric, coating, seams, extra straps, and buckles are the things that you have to be particular about when choosing the best boat cover for outdoor storage. Once a boat cover has these factors, it's guaranteed that it can give the protection that can counter harmful, outdoor elements. It's the only way that you can be certain that outdoor storage is a success!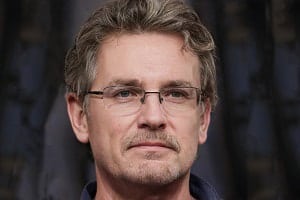 "I am James Harvey – founder of Boating Basics Online. It is established with the drive to help out first-time boaters, which are those desiring to explore their way through the water. So if you are new to boating, start from here with me. "