Maintaining the sturdiness of a boat requires great cleaning efforts that withstand extreme marine environments. Making your boat appear new will extend your years of great boating. In order to do it, efficiently clean your boat using a high-quality boat maintenance kit and simplify any tedious cleaning duties.
Secure one that is affordable and of the best quality for efficient and longer use. It may take a bit of effort but will not necessitate the help of professionals. Your boat deserves a make-over, so read on to find our reviews and buyer guide the best boat cleaning brush!
---
Camco 43633 Brush
Adjustable handle
Rubberized head corners
Effective in removing ingrained dirt
---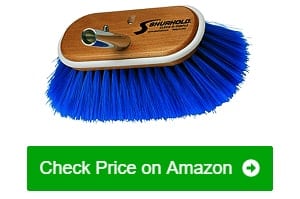 Shurhold 970 Deck Brush
Easy to lock
Rubberized bumper
Do not break through surface paints
---
MEIBEI HK020 Brush
Easy wall-mount storage
Ergonomically-designed broom
Adjustable to reach difficult areas
---
Best Boat Cleaning Brush Reviews
1. Camco 43633 RV Flow-Through Brush
Another best boat cleaning brush, Camco's flow-through wash brush with adjustable black/gray handle works best for RVs and boats. Boat owners use this product to clean their boats and marine vehicles without damaging the coated or painted surfaces.
This marine product has rubberized head corners that make washing safe for the surfaces of a boat, RV, and home. I've used it as a marine deck brush and I can confidently say that it is the perfect tool to get any cleaning job done. It can effectively scrape off smudges and deliver mirror-like finishes.
It has amazing features, like the retractable handle that I am most fond of. The handle allows an extended reach of 40 to 70-inches to get through hard-to-clean areas of any surfaces.
Plus, it has a wide 10-inches locking head that makes its bristle brush stable and prevents spinning. Its handle base includes a garden hose with an on/off button that controls water flow through the brush head. Additionally, it is versatile in that it is compatible with any application, as mentioned earlier.
Using the integrated handle ensures no issues in removing ingrained dirt or grimes off the surface of any boat. Its soft bristles enable me to clean without compromising the integrity of my boat. The only downside is that its standard hose has a poor connection which weakens the handle, especially during long applications. Otherwise, this brand is a great purchase for its functional features.
What We Like
Rubberized head corners that prevent damages to surface coats or paints
Adjustable handle that can extend from 40 to 70-inches reach
Hose connection has a functional on/off button for water flow control
Effective in removing ingrained dirt or grime off the surface
What We Don't Like
Poor hose connection that weakens the handle especially with continuous use
The brush with its functional features is useful to maintain the looks of any boat and RV. I highly recommend using this product as a safe and effective cleaning brush.
2. Shurhold 970 Deck Brush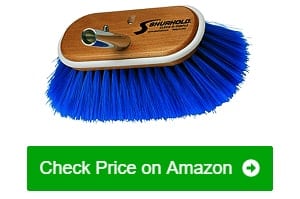 The first top-rated brand on our review is Shurhold's 6-inches deck brush that comes with extra soft blue nylon bristles. The product is safe for use on boat surfaces. Thus, you will not have to worry about any marks, scratches, or damages.
Thanks to its sturdy wood block that is wrapped with rubber around its bumper, it is easy to use. It even allows me to lock it to any handle, which makes scrubbing or brushing at certain angles hassle-free. I also tried to use any stick as a handle to save space and complete my cleaning more conveniently. It has flared bristles that hold more cleaning solutions in a single pass, so it saves me time and effort.
I like using this best boat deck brush for its extra soft, soft, medium, and extra stiff bristle textures. Using this brush is way better as it can bend but will not break through the surface's paint.
Instead of using wool or non-microfiber mitts, I prefer its different bristles for effective and safe scrubbing on boat surfaces. I love its exceptional quality and protection, both of which makes it a product that is worth the price for thorough cleaning on my boat and vehicles.
I would highly recommend this Shurhold deck brush as a general cleaning tool for boat exteriors. It has a solid head construction that is best for use on delicate boat surfaces like isinglass or plexiglass. However, I do not recommend using this brush on stubborn stains or spots. Overall, I am at peace with its features that other brands fail to offer.
What We Like
Best for isinglass, plexiglass, and other delicate boat surfaces
Easy to lock with a Shurhold or any handle for convenient use
Exceptional quality for thorough cleaning on the boat and other vehicles
Rubberized bumper for safe use causing no scratches or marks to boat surfaces
Bristles bend and do not break through surface paints or coats
What We Don't Like
Ineffective for stubborn stains or spots
I can attest that this is worth the price for its exceptional quality and performance. It works well on delicate surfaces and is universally compatible with Shurhold handles.
3. MEIBEI HK020 Floor Scrub Brush
One of the top-ranks, this MEIBEI floor scrub brush comes with a long handle that can go for different sizes. This is the best among boat hull cleaning brushes that can adjust to reach hard-to-clean boat interior and exterior areas.
Using this product ensures boats and homes are clean, particularly the kitchen and bathroom including the bricks, walls, decks, hulls, and floors. This is a best buy that matches a variety of indoor and outdoor uses for boats, vehicles, and homes.
In terms of indoors, it works for bathtubs, tiles, and concrete or marble floors. As for outdoors, it is superb for pools, driveways, boat decks, and hulls. This handy brush has an ergonomic structure that can reduce body pain while cleaning as well.
The brush handle comes with a wall-mount holder to quickly hang it on the wall for easy storage options. It is easy to customize as it has an adjustable handle, ranging across 28-inch, 41-inch and 54-inch for easy maneuverability in various heights.
I have tried this stiff-bristle brush for other contact surfaces and I'm amazed by its vigorous scrubbing. It is supported by its sturdy handle that makes the brush more stable against solid or concrete surfaces.
Altogether, it is a great floor scrub brush that is handy and stunning which most boaters favor. Except for one downside that its handle may loosen while cleaning. I would suggest checking each mounting thread to ensure that they are tightly screwed to the brush head. I have been using this product for about three years now and have not encountered any issues.
What We Like
Adjustable to reach difficult areas to clean solid contact surfaces like concrete
Ergonomically-designed broom to fit any user height or size
Brush handle comes with a hanging hole for easy wall mount storage options
Suitable to use in cleaning the interiors and exteriors of boats and homes
What We Don't Like
Mounting thread may cause the handle to get loose from the brush header.
The brush can do great cleaning jobs at various heights. I'm sure you will also come to love its adjustable handle, quick-to-carry and easy storage.
4. EVERSPROUT Scrub Brush
The Eversprout foot scrub brush is a lightweight marine product designed with soft-bristles, rubberized head bumper, and an extension pole. It is the best soft bristle brush for cleaning boats, cars and RVs, as well as decks, solar panels, and home walls or sidings.
It is an exceptionally designed brush with a high-quality interchangeable twist-on handle for easy extended reach of up to 3.5 feet. I love how its soft synthetic bristles and protective rubberized bumper works without scratching or damaging my boat exteriors. The brush head also comes with a built-in tapered squeegee bumper front that easily removes water from the surface.
However, due to its lightweight build, you should avoid pressing too much pressure on the brush handle and head because it can slip the plastic clasps, causing the brush to collapse. This results in a shortened handle length which makes cleaning surfaces more difficult.
So, don't forget to lock the handle and head tightly. Using a screw to tighten the clasps is another great idea which I did to prevent wasting my time and effort on troubleshooting mishappens.
It has been proved to be effective on boats, cars, RVs, SUVs, trucks, other vehicles, and home surfaces. I even used it to clean and wash driveways, showers, patios, and bathrooms without any issues in terms of the scrubbing performance.
I recommend using this product for its consistent customer service that provides prompt resolutions within 24 hours. It also guarantees a one year replacement period with great US-based customer support that other brands fail to offer.
What We Like
Exceptional high-quality design with an interchangeable twist-on type handle
Protective brush head with a rubber bumper for a scratch-free finish
Soft-synthetic bristle brush that is best for boats, car, RV and home walls.
Great USA customer support with one year replacement period guarantee
What We Don't Like
Pressing too much pressure causes the clasps to slip and collapse the handle
All in all, this is a great scrub brush with a lightweight extension handle for a wider use and reach in marine, outdoor and indoor surfaces. This marine brush product will entail smooth scrubbing and washing while leaving a scratch-free and mirror-like boat finish.
5. STAR BRITE Standard with Handle Brush
From a leading brand, the Star Brite standard extending brush has an 8-inch dual-connection head suitable for threaded or extended handles. It is powerfully built with medium-duty components, including high-density polymer fibers that withstand rotting, discoloration, tough stains, and does not easily brittle.
This is the best-selling boat scrub brush among health and household cleaning supplies provided in the market that I got two years ago. The brush may not be the cheapest among top-rated brands but it has the best bristles for any cleaning purpose.
I love using its soft, medium, and coarse bristles that come with a fairly reasonable price. It has a good holding capacity for water and its cleaning solution is better than other brands.
The brush features a wide cleaning span and an extended anodized aluminum handle to clean even the most difficult-to-reach areas. The handle has a comfortable non-slip grip for effective cleaning with a twist-type lock system for a tight hold. However, I would not suggest putting too much pressure on its handle to prevent it from drawing back.
I have been using this brush for most of my boat cleaning tasks. I even used it on my other vehicles without changing the brush for certain tasks that require specific bristles. I like how its unique twist-type lock mechanism works to provide a tight hold of the brush. Overall, it's a strong brush that can resist extreme temperature or chemical elements whenever needed for all types of cleaning.
What We Like
Features a twist-type lock mechanism to tighten the hold of the brush
Powerfully built to resist rotting, stain, mildew, discoloration, and chemical
Includes a non-slip comfortable grip extending handle
Medium-duty and high-density fibers suitable for all types of cleaning
What We Don't Like
The handle can detach or loosen when too much pressure is applied
This is one of the best boat cleaning brush for all types of cleaning tasks made of high-quality materials. It is effective on tough stains and is versatile enough for users to use the same bristle for different cleanups.
6. Shurhold 1960 Marine Mate Soft Brush
This Shurhold marine mate soft brush is made in the USA and comes with a 48-inches threaded wooden handle. It has a high-quality 6-inches brush head similar to standard brushes that work best for cleaning boat bottoms and fish storages.
The wooden handle and head brush have split-end fibers that effectively hold more soap, cleaning solution, and water. It is safe for use on delicate surfaces like fiberglass, gel coats, and paints. This Shurhold boat brush can stand against acid, solvents, alkalies, and other chemicals. It is also proven very useful in scrubbing off dirt and marine deposits from below the waterline of boat surfaces.
The product is soft enough to work well on cars and vehicles without damaging the coated or painted surfaces. I have used it for my boat and other vehicles for quite a long time and it continues to work amazingly.
I really love using this brush because I do not need to exert a lot of pressure against the surface being cleaned. I also like that it does not require much effort to maneuver through to hard-to-reach areas around my boat and vehicles.
However, the handle is a bit of a concern when not connected properly to the brush head. You must ensure that the handle is tightly screwed to the brush head to prevent any loosening while cleaning. Secure a firm grip of the handle or use a foam grip as it can slip when your hands get wet. Overall, using this brush with a wooden handle and smooth fiber bristle can maintain a dirt-free boat.
What We Like
The product is made in the USA with a threaded wooden handle and brush
Specially designed split-end fiber bristles that hold more soap, water, and cleaning solution
High-quality wooden head brush similar to standard brushes
Suitable for use on fiberglass, gel coat, and painted surfaces
What We Don't Like
The wooden handle tends to loosen and gets slippery when hands are wet
This marine brush can clean, protect, and polish any boat and maintain its appearance. It quickly cleans and leaves dirt-free boat exterior surfaces that can last for a long time.
7. STAR BRITE Boater Combo Set
Another Star Brite product, this boater combo set comes with a medium-bristle brush and telescoping handle for effective cleaning. It includes 2 packs of boat scuff erase solution, a huge sponge, and a boat hook – all worth the purchase.
This is an amazing boat brush with a sturdy handle that extends up to 6-feet. I love using its telescoping standard handle with 2 non-slip foam grips because they guarantee a tight hold even with wet hands.
The convenient handle with clockwise twist lock and push button connector switch is also compatible with all Star Brite attachment or accessories. Though lightweight it can withstand high-pressure applications and has air chambers that allows it to float when dropped on water.
Another feature that makes this US-made product popular is its 8-inch standard deck brush head with high-density blue star-prene fibers. Built with durable materials to resist adverse marine environments like extreme heat from the sun, harsh chemicals, and salt water, this will serve for years without splitting or cracking damage when used in cleaning boat bottoms and water lines.
This set helped in all my cleaning tasks, washing away my worries about finding decent boat bottom cleaning tools.
Lastly, this brush combo set on my marine cleaning kit is easy to maintain and store after use. Thanks to its boat hook which saves space for safekeeping. Except for one downside, it takes time and effort to figure out which side of the brush connects to the handle. Other than that, the handle, brush head, and bonus features are all worthy to restore the sheen of any boat surface.
What We Like
USA-made standard boat brush with bonus packs
Highly durable lightweight structure that withstands extreme environments
Improved handle for easy grip configuration compatible with Star Brite accessories
Strong medium-bristle brush for effective cleaning and extended use
What We Don't Like
Finding the right side of the brush to connect the handle
This is a great boater cleaning item to use in restoring the original sheen of boat surfaces. I highly recommend getting this because it comes at a fairly reasonable price for solid features.
8. Better Boat Soft Bristle Boat Brush
This bestseller, the Better Boat deck brush includes a soft bristle 8-inches scrub brush head to gently remove dirt. It has a protective ¾" ACME thread bumper that is safe for connection to Better Boat handle and universal tips.
The product is a specially-designed marine-grade scrub brush that works for aluminum, fiberglass, glass, grout, tile, vinyl, and wood surfaces. Engineered with soft-textured bristles that gently removes dirt, scums, stains and marine deposits without harming painted or coated boat surfaces.
I like using this soft brush with water alone in cleaning my boat and RV from the inside. It is also capable of delivering desirable results when used with Better Boat soap and pole handle.
Yes, the brush is safe with boat soap to clean decks and hulls. Its thick rubber bumper protects surfaces from marks or scratches from the brush head while cleaning and scrubbing off dirt. Moreover, the brush face is large and deep enough to make surfaces look like new after each scrubbing task. I feel safe bringing the brush overboard as it can float in case it slips off my hands.
Overall, this synthetic-bristle brush proves to be an effective boat deck wash brush or a RV scrub brush. It would be nice having a pole handle as part of buying this package to make it worth the purchase. Nevertheless, I recommend spending some money to separately buy a Better Boat extended pole handle for better results.
What We Like
Best for use on aluminum, vinyl, wood, glass and fiberglass
Soft-bristle and thick rubberized bumper brush fit for boat exteriors and interiors
Gentle on surface while taking away dirt, grime, waterline and marine deposits
Floats on water whenever it slips off the hands
What We Don't Like
Pole handle is not part of the package and a separate buy
This premium marine-grade brush is the best boat cleaning tool that boaters love to use. It is gentle on surfaces and works well in removing dirt and marine deposits.
9. Mofeez 8542144088 Marine Brush
Use this high-quality Mofeez marine household scrub brush to clean any boat or RV with an effortless application. This soft-bristle, long-detailing and car wash brush is best for all-types of cleaning RV, marine, auto, and household surfaces.
The product has an all-4-sided brush head that fits standard-sized brush pole handles, preventing marks or scratches on surfaces. It has soft-bristle fibers that ensure maximum cleaning while protecting the painted or coated surfaces from being damaged.
I enjoyed using this brush to clean my car, RV, and boat for over two years now without any demise. This product became an integral part of my marine boat cleaning kit.
I'm amazed that this brush has a 10-inches quad all-sided head with side bristles to reach areas that are difficult to clean. It prevents the plastic brush head from marking or scratching the boat surface while cleaning.
This car brush offers the best value for money, except for the pole handle that needs to be bought separately. Well, I would recommend getting one of these marine-grade scrub brushes for boats and home surfaces.
Overall, this product can hold longer and efficiently transfer the soap and water from the bucket to the surface for cleaning. I love this as it shortens the transfer efforts from the bucket soap to the target surface. I think most of the alternative brands are not able to provide this for the practical sense of using it. It prevents water or boat soap from running off the brush and cascading into the arms as well.
What We Like
Four-sided brush head that is best for use on boat, marine and RVs
Soft and gentle bristles that does not scratch painted or coated surfaces
Long car wash brush with side bristles for best cleaning results
Fits most standard size brush handles
What We Don't Like
Pole handle is not included
This soft bristle scrub brush is the best value for money spent product. Grab one now and start enjoying effortless scrubbing and cleaning sessions of any boat, RV, and homes.
10. Unger Hydropower Bi-Level Wash Brush
This Unger hydropower bi-level soft-bristle wash brush has a 10-inch brush head made of durable synthetic elements for wider coverage. It is best for use on boats, cars and other surfaces like glass, windows, walls or sidings, patios, and floors.
This product can gently clean surfaces without leaving any scratches or marks thanks to its synthetic head materials. Plus, the brush head is easy to attach to fixed water-flow or telescopic pole handles. Its bi-level bristle design allows maximum reach and multiple angles of cleaning, which is more convenient than other brands in the market. The brush has hard bristles that tackles tough dirt and stains with or without water.
This product is highly flexible to be used as a handheld or with a fixed-handle or water-flow pole. I really like using this brush to clean high areas at home or inside of my boat.
Though the HydroPower pole handle is a separate purchase, having it along with a garden hose can maximize performance. There are universal pole handles also available for purchase. These have compatible threads to ease the strength of connection.
This brush effectively deals with stubborn dirt and stains or difficult-to-clean surfaces because of its hard bristle fibers. One thing to remember though, I would not recommend using this to clean delicate surfaces. It is better to be safe than damaging the painted or coated finish of a boat surface. Even so, this boat deck scrub brush can be used to clean concrete, bricks, tiles, floors, wood, and other solid surfaces.
What We Like
Gently cleans surfaces without scratching
Has bi-level bristle construction that allows multiple angles to clean
Best to clean boats, cars, glass, patios, siding, and windows
Easy to attach to a pole handle (pole is a separate buy)
What We Don't Like
Not suitable for use on delicate surfaces especially for painted or coated finish
Every boat owner wants a brush that is able to effectively deal with tough dirt and stains. This is the ideal product because it has a bi-level scrub brush that delivers the best cleaning results. I highly recommend getting this marine brush to help bring back your boat's original sheen.
11. CARCAREZ Flow-Thru Car Wash Brush
The 10-inches car wash brush from Carcarez is designed as either flow-thru or dip-wash for boats, cars, RVs, and camper trucks. It is an all-around cleaning tool that comes with a soft-bristle brush head for gentle and scratch-free boat surface finish.
This tool is built with an on-off switch to easily control water flow-thru with an attached garden hose. Its soft bristles hold more water and soap long enough to move from the bucket to the surface for cleaning. The brush features strong bristle construction to withstand deformation and side bristles for wider cleaning coverage results. All sides have fiber bristles to prevent damages to the surface with the hard plastic head bumper.
I highly recommend this multi-purpose car wash brush for its practical functionalities and optimal performance leaving a mirror-like finish. It can fit the standard extension handle with ACME ¾" male thread for secured connection preventing the head from spinning.
Plus, the pole handle is designed with foam grip for a firm hold even with slippery or wet hands. But, keep in mind that this brush has a distinct thread that may not fit universal pole handles.
Mainly, this is a superb wash brush for cleaning bottom of boat that I will definitely buy again. The product works well for use on boats, cars, SUVs, and any surfaces. Its results are accentuated when paired with a Carcarez extension handle that can easily adjust its height or reach. I suggest that you use the included handle to easily reach difficult-to clean areas.
What We Like
Soft bristles for gentle, scratch-free and maximum cleaning performance
Strong bristle construction to withstand deformation
Dip or flow-thru car wash brush when attached with a garden hose
Holds more water and soap when moving from bucket to target surface
What We Don't Like
Thread may not be compatible with universal handles
This boat car wash brush makes cleaning for cars, SUVs, RVs, and boat exteriors effortless. Head to the nearest store or seller to secure this multi-purpose marine cleaning brush for maximum cleaning performance.
12. Superio 187 Deck Scrub Brush
Among the top-rated brands we have on these reviews, this deck scrub brush by Superio offers a 48-inches extension handle. The brush also comes with a heavy-duty hard-bristle that is best to scrub and scrape grouts, granite tiles including carpets.
The product is designed to clean boat decks, hulls, floors, bath tubs or bathrooms, patios, kitchens, and swimming pools. Its stiff bristles work well to scrub dry or using water and detergent soap to combat tough dirt, grime, and stain. The brush kit also includes a wide scraper for users to easily take away marine deposits like sewage after each washing task.
I like using its durable blue aluminum handle that is long enough to reach areas without having to stretch a hand. There are sturdy brushes with rubber bumpers on both sides of the brush head to withstand extremely varying weather and marine environments.
It protects surfaces from scratches or marks during cleaning and leaves a neat and blemish-free finish. This is all thanks to its customized sizes with 9-inches long and 3-inches wide scrubber brush and 6.5-inches long brush scraper.
The brush provides not only a wide exceptional coverage and scratch-free cleaning but also a highly convenient grip during cleaning. One downside, however, is that putting too much scrubbing pressure on the brush may soften the bristles.
You need to refrain from putting excessive pressure when scrubbing to ensure maximum cleaning power of the bristles. I have been using it for several years to clean boat corners, underbeds, and even house sidings.
What We Like
Sturdy and safe brush scrubber to tackle tough dirt messes through the years
Stiff bristles to tackle tough dirt, grime and stains
Durable long aluminum handle to reach areas without stretching a hand
Customized brush scrubber and scraper sizes to clean corners and underbeds
What We Don't Like
Too much scrubbing pressure softens the bristle that reduces its cleaning power
This product is among the top-rank boat hull brushes on these reviews with a perfect handle, bristle, and dimension. Ease the search for a quality scrubber brush with this great marine tool that provides effortless boat cleaning.
13. Weiler 44026 Deck Scrub Brush
The last bestseller in our reviews is a deck scrub brush, one of Weiler's maintenance brushes available in the market. Made of Palmyra fill bristles and a wooden head that withstands wet and dry application, it is well worth the fair price.
This deck scrubbing brush is designed with a variety of features that works solidly when used outdoors and indoors. It can be used as a handheld but can also offer favorable results when used with an extension handle to clean medium-to-coarse surfaces.
Though sold separately, it is best to get a compatible Weiller handle for maximum scrubbing performance in most surfaces. The 2-inches long fiber bristles effectively remove stubborn dirt, debris, and deposits from average to rough surfaces.
The brush head is built with a 10-inches long wooden block that is heavier than typical plastic heads. Using this brush will not exert extra pressure but it is still fit for average to heavy cleaning tasks.
Compared to other soft boat brushes, this product is highly dependable when used for soft, medium, and rough exteriors. The wooden head has two handle holes that are compatible with tapered or threaded poles and provide flexible sweeping reach.
This deck scrub brushing kit, however, does not include an extension handle. So there is a need to buy it separately. Though a bit of a downside, it is not a big issue as it can be used as a handheld as well.
For best results, there are available extension handles which can be purchased from Weiler or other universal handle makers. Overall, this boat scrub brush will surely deliver great performance for long years.
What We Like
Works well either wet or dry applications in both indoors and outdoors
2-inches Palmyra fiber bristles for removal of tough and stubborn dirt
Compatible brush head to connect with a tapered or threaded handle
Easy to connect with either two holes for a tapered or threaded poles
What We Don't Like
Extension pole or handle is sold separately
This is a good durability scrubbing brush designed to withstand medium to coarse surfaces. You will appreciate that this brush delivers great cleaning with flexible sweeping directions.
14. Carrand 93062 Deluxe Wash Brush
Another top-rated brand, this boat washing brush features a 10-inch dip brush and a 65-inch extension pole. This wash brush is one of the more innovative, quality, and valuable products provided by Carrand. Outstandingly, it delivers consistent mirror-like finishes.
This is a super soft brush that has a rubberized bumper head to ensure that cleaning does not leave scratches. It also comes with a foam grip to ease tighter control of the handle. It is a specially designed light-duty brush for easy maneuverability on hard-to-reach areas of boats, RVs, cars, and SUVs. These are some of the functionalities that I like about this dip brush and I'm sure others would appreciate.
One drawback, which happens to most users, is that putting too much pressure on the brush can shed its bristles. I suggest gently pressing the brush onto the surface to prevent leaving any bristle particles on the boat's surface. Also, users should follow directions for use as it is unsafe for other boat materials like painted or vinyl surfaces..
Nonetheless, I like that it performs well on both my marine vehicles and my home's window screens. So long as it is in use on suitable surfaces, it will not brush away the money invested on it. It has been a reliable companion for about five years now.
What We Like
Best for use on boats, RVs, cars and SUVs
Super soft and light-duty brush head that can
Specially designed brush head with rubberized bumper and extension handle
Features a foam grip for better handling and tighter control of the handle
What We Don't Like
Putting too much pressure on the brush while cleaning can shed its bristles
This super light-duty brush enhances the look of any surface with a brand new look after each cleaning. Undoubtedly, it is the best solution to clean high and difficult areas of boats, RV and other vehicles.
Factors To Consider When Choosing Boat Cleaning Brush
Here are some factors to consider in choosing the best boat cleaning brush. Check the materials of the type of boat surface to know what the appropriate quality of brush is to clean those surfaces. Review the features of each brush with the surface materials and the practical reasons in mind of using these brushes. The length, sizes or dimensions, comfortable grip, adaptability, mobility, and ease of use are additional aspects to consider.
Taking these steps will guide you to a wiser selection of the needed brush quality followed by durability and price considerations. We have narrowed it down in these reviews to provide you with the most important considerations. Rest assured that you will have all the basic factors and unbiased tips you need to make the right purchasing decision.
Below is a buyer guide on the different types, advantages and disadvantages of the available boat brushes in the market.
The different types of boat cleaning brushes
Securing what type of boat brush is essential in making a difference and effectively cleaning any boat? Basically, boat cleaning brushes have distinct differences so it's better to know the most common types available in the market.
Soft Boat Cleaning Brush
These are soft fiber bristles that are best used for longer cleaning time. These kinds of brushes do not require exerting excessive effort or pressure when scrubbing or scraping, especially on delicate surfaces. These soft brushes will not cause any harm but are ineffective for heavy dirt and stains.
Medium Boat Cleaning Brush
This is the most popular and widely used type of boat cleaning brushes. The medium cleaning brush is as gentle as the soft type but strong enough to prevent scuffs or scratches. While it is still effective and semi-stiff in removing dirt, grime, and stains with reduced effort and time.
Stiff or Hard Boat Cleaning Brush
These brushes are best to tackle tough and stubborn grime or stain with its hard fiber bristles. The hard bristles allow effortless removal of hardened dirt or stain through time. They are great for boat bottom cleaning to ensure that parts exposed to the water are clean and best dealt with.
There are also combo sets, making these types of boat cleaning brushes suitable for almost all contact surfaces. However, these cleaning brush combinations would need a thorough check of their respective functionalities. So, take time reviewing them to maximize the desired benefits from using the right boat cleaning brush.
Benefits and drawbacks of using a boat cleaning brush
Know the key advantages and disadvantages below to guide your independent selection process.
Benefits
Breaks away dirt, stain, and grime and eliminates them effectively.
Safe and protective boat cleaning tool features
Best value of investing on general or specialized function brushes
Convenient use with easy and extended reach to all corners of the boat
Adjustable or collapsible handles for various scrubbing or sweeping angles
Strong and study fiber bristle for a wider and deeper coverage
Lasts long when properly cared and properly used for its intended purpose
Drawbacks
When not chosen correctly, can cause damage to delicate surfaces
Requires manual application, thus, need to exert energy for best results
Compared to other boat cleaning tools, regular maintenance is vital
Care and Maintenance
These boat cleaning brushes require consistent care and maintenance to ensure durability and a long lifespan. It would only take quick and thorough cleaning, washing, and rinsing to prolong the lifespan of any boat cleaning brush.
Do regular care, checking, rinsing, and wiping of each brush after every use and store them in a cool place.
What Should You Use Along With A Boat Cleaning Brush
Depending on the boat surface material, there are applicable cleaning tools that can be safely used along with a boat cleaning brush. To clean fresh contaminants, dirt, and stains, you need to wash the surface with fresh water while scrubbing it. The use of boat cleaner solutions or boat soap is recommended when dealing with tough stains or dirt.
When dealing with painted or coated, aluminum, plastics, fiberglass, and other delicate surfaces, read each cleaning product's instructions carefully. Using an all-purpose cleaner will do a lot of help in terms of saving time and effort in scrubbing. On hard or coarse surfaces, the use of heavy-duty boat cleaning formula along with a stiff brush will do. Use a partially wet soft sponge for initial scrubbing, rinsing, and wiping.
Can I Use My Boat Cleaning Brush For Cars/RVs
Washing your auto, car, SUVs, and RVs with the use of a boat cleaning brush is useful in between. It helps ensure thorough maintenance details, though in some cases it is not advised on delicate car and RV surfaces. When this scenario happens, it is better to do the washing of the surface by hand with fresh water, sponge, and special cleaners.
Note that no matter how soft the bristles are, the brush can still cause tiny scratches on a vehicle. It can easily scratch the clear coat or paint of a car, SUV, or RV. So, you should use the brush on other parts of a car, SUV or RV and skip using it on coated or painted finishes. When there is a dire need to use it on a car and RV, make sure to check it first.
Which Is Better – Boat Cleaning Brush Or Pressure Washer
A boating trip is a huge fun-filled experience but it also requires tons of cleaning work thereafter. There are plenty of boat cleaning tools, cleaner solution formulas, and boat cleaning brushes available in the market. Selecting a cleaning brush or a pressure washer, however, depends on each after-trip result.
The easiest and most effective boat maintenance tool is to own a pressure washer. Using the pressure washer will speed up the washing process. It will break heavy solids and deposits while doing a better brushing than what is done by hand. Using a pressure washer is the best preparation step, as it will help see the depth of dirt or stain. By then, commencing a little scrubbing with the use of the right bristle brush completes the task.
In most cases, simultaneous cleaning procedures with the use of a pressurized washer, boat brush, and boat soap can best leave a blemish-free finish.
Conclusion
Boaters and boating professionals would not miss a good marine brush for their essential boat cleaning kits. These are cleaning tools that help the upkeep of any boat for many boating seasons. Choosing the best ones helps prevent accidents, enhance the enjoyment of navigating the waters, and protect the boat's lifespan.
Use the best boat cleaning brush of your choice to ensure your marine vehicles are clean, dirt-free, and non-slippery. Investing in these high-quality brushes saves time and effort. Remove marine deposits and scums with a suitable brush to clean your boat and leave a fresh new look.
Pick your best choice among these marine brushes built with powerful and ergonomic materials that make brushing easy and safe. Maintain the deck, hull, floor, or exteriors of your boat with the right brush from these honest and independent reviews.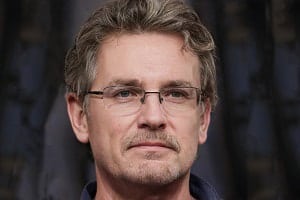 "I am James Harvey – founder of Boating Basics Online. It is established with the drive to help out first-time boaters, which are those desiring to explore their way through the water. So if you are new to boating, start from here with me. "