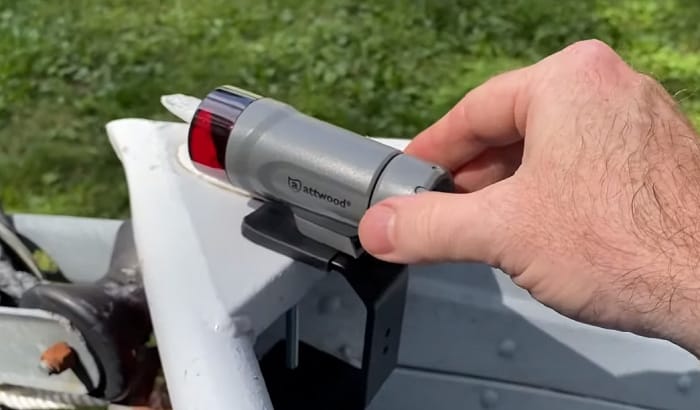 Boat owners should know the vital role of navigation lights. These marine accessories provide visibility for other vessels to acknowledge your presence whether you're moored or underway. They're also a must-buy due to the mandate of local regulations and international laws. With these concerns, you can turn to battery powered boat lights.
The best battery powered navigation lights are dependable in providing your needs as well as being compliant with the laws. To ensure that you purchase them, take a look at these factors:
Knowing the Application of Navigation Lights
Before everything else, you have to know very well the applications of battery operated nav lights. You should know what you're up to before buying a light kit. For instance, kayak navigation lights are submersible while portable ones are dinghy navigation lights. With these details, you can perceive that the smaller the vessel, the smaller the lights should be. So, choose bigger lights for larger vessels.
Depends on Your Boat Size
Another important factor that you have to look at when buying battery powered boat navigation lights is your boat size. Find something that fits your canoes, dinghies, rowboats, and inflatables.
What you can find in the market are bi-colored, tri-colored, and white lights. Apart from color varieties, there are also options whether the lights can be temporarily or permanently installed. Rest assured that all battery operated nav lights installation is a straightforward process. C-clamps, suction cups, and pole mounts are the usual parts for assembling them.
Color is not only for your boat's appearance but to comply with the regulations. You have to select the recommended size and color for a specific boat navigation light. Running lights, stern lights, and bow lights come in different sizes, colors, and even forms.
What sets LED lights apart from other types of light is the low draw of energy. Every boat owner will find it favorable as battery operated navigation lights are generally with LEDs.
After you take note of these features, you don't have to spend a lot of time looking for excellent battery powered navigation light as they are listed below: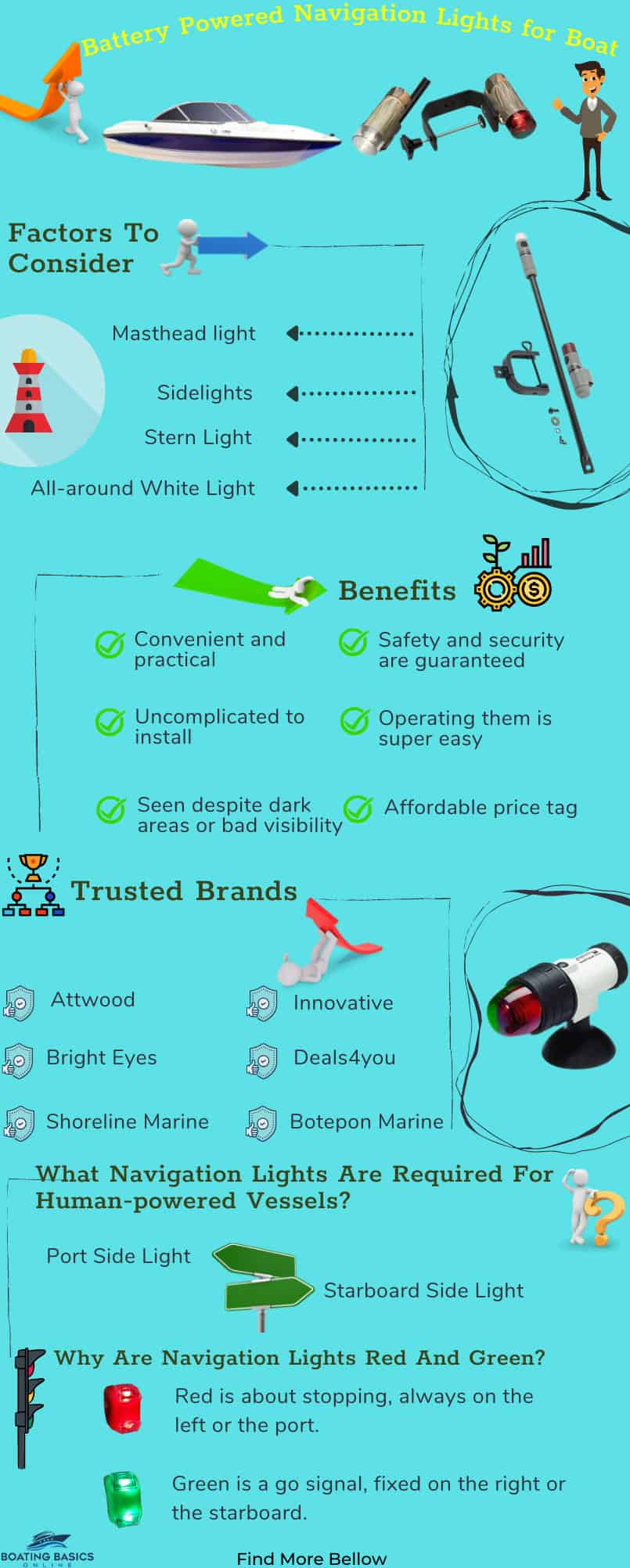 ---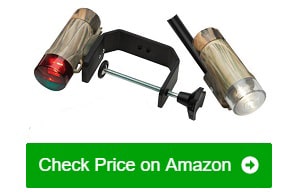 attwood 14191-7 Navigation Light
Made for marine use
Has camouflage color
Versatile mounting equipment
---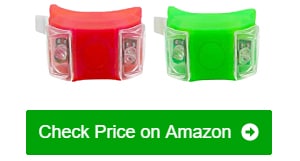 Botepon Marine Boat Bow Lights
Pretty easy installation
One-year warranty
Spectacular brightness for safety
---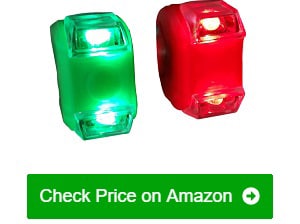 Bright Eyes Boating Lights
Four-position switch toggles
Waterproof and survives saltwater
Comes with the necessary batteries
---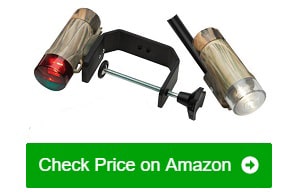 These clamp-on battery powered nav lights are perfect for my 14-foot Jon boat. I don't have to deal with bad switches on navigation lights anymore! The visibility it creates at night is superb and it's what every boat owner needs when going sailing, hunting, or fishing at night. I don't have to hurry to go back home when the dark falls.
The LEDs in this navigation light kit do their job well. They guarantee my safety and they're also the items for the observance of the regulations. With its brightness, no doubt that nearby boats can see me in the dark.
You can get a white LED stern light, LED bow lights in color red and green, poles, quick-release mounts, and pieces of hardware. Everything is pretty good, however, I just wish that the stern light was taller. Installation is a piece of cake but this part requires additional work. I think not everyone should do some modification.
The changes that I made were not complicated at all as the mounting equipment is versatile. You can be creative like me and mount it in many ways on small boats. I like how the clamp holds firmly, so I don't have to worry about it. Additionally, it's easy for me to add or remove the lights in its designated area.
Before placing them on my boat, I made a test in the water and it showed me that it's undoubtedly for marine use. I can say that the seal of its shock-proof housing is reliable as the water can't get into the lights. The shatter-proof lens is also excellent. To make it work, all you need are three AAA batteries. For the sake of hunting, I camouflage my boat. To my delight, the lights in the kit are also in the same shade.
What We Like
Has brightness that can create superb visibility at night
Guarantees safety and observance of regulations
Has versatile mounting equipment for modifications
Clamps hold firmly but can be removed and attached easily
Made for marine use
Has camouflage color that is helpful for hunting
What We Don't Like
The stern light needs to be taller for some
I appreciate how I can easily attach or detach these portable navigation lights. The brightness is also great as it makes me in the mood for fishing and hunting even in the dark.
2. Botepon Marine Boat Bow Lights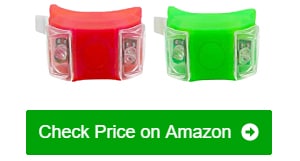 I'm happy and content with these portable boat running lights. They're well-designed and functional with a one-year warranty. The brightness coming from this red and green light is spectacular as I can enjoy watching the moon at night with my kayak. I can be seen even from 0.6 miles away. Night outings and activities become fun because of them.
These are battery navigation lights that warrant my safety and compliance with water regulations. I don't have to be afraid of getting run over by motorboats. Even bystanders who are hanging out along the bank can spot me. They're great to use when sailing on small bodies of water. I placed them on the bow rails and you may also attach them on a cleat.
Whenever I'm out of the lake or river, occasional splashes of water are unavoidable. I'm glad that these lights still function despite those encounters. Initially, I have them as dinghy lights but I'm impressed with their abilities. Therefore, I even bought some of them for my main boat because they work wonderfully as a backup light. They can be a great helping hand when I go out with my fishing boat with their brightness.
Installation went pretty easy for me because of the rubbery, silicone straps, and tiny S clips. I'm joyful as I don't need to put my head on wires. They have the right fit on my bow rails! I can remove them with ease as well when I sail on saltwater to prevent rusting. Nevertheless, the three cool lighting modes are flashing mode, slow flash, and steady.
What We Like
Well-designed and functional with a one-year warranty
With spectacular brightness for safety and compliance to water regulations
Can be attached on bow rails or cleat
Doesn't get damaged with splashes of water
Can be used as backup lights with lighting modes
Pretty easy installation
You can have these battery powered boat nav lights as running lights or backup lights. I like their design for effective use and easy installation. They can last for a decent period.
3. Bright Eyes BE-BTLGT-GR-1 Marine LED Boating Lights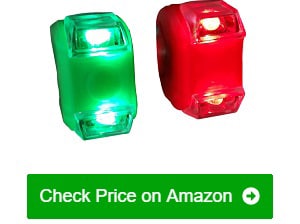 I salute these portable navigation light boats for promoting boat safety lighting solutions. When I found them, I knew right away that they were perfect for my inflatable pontoon. Nonetheless, they're also great for kayaks, canoes, skeeters, and other small boats. Although these are tiny lights, the brightness is incredible!
They're super bright, so they can show you the way in poor visibility, like when you're night boating. With their brightness, they will pass as emergency lights. Sometime in the past, I met local marine police who congratulated me for correctly choosing and installing navigation lights. Hence, I owe these lights for not getting in trouble.
They're effective portable navigation lights for small boats because they're relatively waterproof. They had contact with saltwater but they remained functional. The LED lights are not only waterproof but the silicone sleeve as well for covering. They're reliable as there's a 100% money-back satisfaction guarantee that every buyer can avail of.
I inserted the silicone loops on the 1 1/8 inches OD frame tubes in my pontoon. They'll fit rails that have a diameter of around an inch or 1 ½ inches. However, my brother needs to put some 100 mph chrome tape as the lights become loose for his thin boat rails. They must be stable in facing the direction where the light should project.
There's more to expect from these lights as there are four-position switch toggles. They allow you to make the light steady, in a slow blink or rapid blink and turn off. When I opened the package, there's a pair of CR2032 button batteries in the light. I bought extra batteries and took them with me when I go boating.
What We Like
Promotes boat safety lighting solution with its brightness
Can pass as navigation lights
Relatively waterproof and survives saltwater
Gives buyers a 100% money-back satisfaction guarantee
Has four-position switch toggles
Comes with the necessary batteries
What We Don't Like
Needs to add 100 mph chrome tape when placed on boat rails below the one-inch diameter
I think these are the most suitable portable boat navigation lights for me. The brightness is massive and it's my ultimate buddy during night sailing. I like how I can control the lighting modes.
The stern light in this kit did the trick. I adore the simplicity of clamping the light and inserting the batteries to obtain the illumination I need. Moreover, I don't have to struggle to assemble wires and switches. There's plenty of brightness coming from the LED lights. The light won't run out of batteries all night as LEDs don't draw much energy.
Thus, I don't have inhibitions to go night fishing. I usually set off in the evening and continue until midnight or sometimes, early morning. During those periods, I can get a hefty catch. Also, the safety of everyone and my boat is guaranteed because of its brightness. Its abilities also adhere to the legal directives.
This boat stern light has a 24-inch pole mount which is the right height for my 20-foot pontoon boat. The available mounting hardware included in the kit can be transformed into different configurations. Because of this, these boat lights will fit any boat type. What only bothered me was the button that seemed to be made of hard plastic. It would be much better if it's made of pliable rubber.
Since this light works in any boat, I didn't hesitate to recommend it to my friends and family. My brother put it on his 12-foot aluminum Jon boat. He thanked me for introducing this light as it doesn't rattle even though his boat has a single-cylinder outboard.
Based on other people's feedback, I concluded that it can be used in most types of water. It's not bulky like the other counterparts and it proves to be durable enough when staying in a marine environment.
What We Like
Can simple clamp the light and insert the batteries
Plenty of brightness
For safety and legal directives
The mounting hardware can be in different configurations
Fit for any boat type
Durable enough to stay in a marine environment
What We Don't Like
The button could have been better in pliable rubber
It's proven and tested that it's not only for pontoons but for other boats as well. I like how bulky and easy to use it is. Undoubtedly, it's for fishing and other water activities that you do at night.
5. Innovative Lighting 560-1110-7 Portable LED Bow Light
This battery powered bow light is terrific as it has stayed with me for years! It's a provider of sufficient low-setting light so I can go paddling and fishing in the evening or at night. You may even go water skiing with this in the dark. Favorably, I don't need to drill or follow a process that can mess up the surface of my kayak. But it adheres well with solid brightness that ensures safety and observance of regulations.
It stands out among options of battery powered navigation lights for kayaks. However, it's suitable for other small crafts like a canoe. It comes with a nice suction cup for straightforward installation and placement on the bow. But it needs to be on a flat surface and I was able to move it on the side. Another way to mount the cup is through the threaded brass insert.
To my surprise, it has some cords that I can link to the rigging if ever the suction cup fails, which never happened. Due to this concern, I added a lanyard so I could retrieve it quickly. The only thing that should be changed about this light is the on or off switch because the lip is slightly raised. I understand that they made it this way to prevent turning it on unintentionally, but it's hard to do it when paddling.
With the testimony of a fellow boater, together with the years of using this light, I can affirm that it's well-built and waterproof. He uses this light for his dinghy to go back and forth to his sailboat. The dinghy was submerged, including this light which remained working after changing batteries. I also don't encounter issues even with years of continuous use.
What We Like
Can last for years
The low light setting for safety and regulations
Suitable for small craft
With suction cup and cord for easy installation or placement
Well-built and waterproof as it works even after being submerged
What We Don't Like
The on or off switch has a slightly raised lip
This is an excellent choice among the other battery operated bow lights. It's well-built and waterproof to last for years.
6. Deals4you Portable Marine LED Boat Lights
I was first cynical about these battery operated boat lights, but the size is not the main factor in giving off the right amount of brightness. These 12V LED navigation lights are the perfect example. They can take on various roles, such as running lights and backup lights. Thus, fishing and boating at night can be safe and fun. Since my town requires red light and green light, they're perfect for my needs, even for small vessels.
My kayak can be seen even from two miles away because of these battery operated boat navigation lights. The brightness is magnificent with three lighting modes which are solid brightness, slow blink, and strobe. They don't only work as a small vessel or inflatable boat navigation lights since a set of these lights is good for a pair of paddles. They're also useful in other outdoor activities like camping.
You'll be amazed at how the battery lasts on these as it's filled with LED light. They serve me for hours or throughout the night on my dinghy that is anchored with my sailboat. Since the batteries can last long, my friend also uses these lights on his rafts every night. You'll find extra batteries from its package but I suggest that it's better to buy quality ones.
Another thing that surprised me about these little, bugger clips is their strength in withstanding heavy, salty air. Although they're small, you can rely on their durability and waterproofing as they last all seasons in providing boat safety lighting solutions. The flexible silicone body is designed for rugged marine use. Just mount them on the bow rail and they'll work!
What We Like
Can be running lights and backup lights
Has magnificent brightness with three lighting modes that can be seen from 2 miles away
Energy-saver as batteries can last for a long time
Durable and waterproof to withstand rugged marine use and heavy salt air
What We Don't Like
Buying better batteries than the free ones
I never thought that small battery powered LED navigation lights could be effective. Don't underestimate them as they can keep you safe when indulging in night activities.
7. Aqua Signal 27440-7 Battery-Powered LED Stern Light
This white light is much brighter than the stern light that I had before. It delivers the brightness that I need when paddling in the evening and night fishing with my kayak. The strong LED light is fantastic for marine use. Thus, I can be seen even from miles away. It can be an all-around light or a flashlight for power outages.
There are different mounting options available. I mounted it using the sophisticated suction cup to a dry, clean surface. A carabiner clip comes with it too. Some people even place this over their outboard motors as it doesn't come off even when the boat moves at high speed.
If you are still wary of the suction cup, you can opt for the nice brass inserts and small set screws. These pieces of hardware are for the permanent installation of this wonderful battery powered boat stern light.
You can also customize the mount set-up to give way to your vessel's structure. A mounting clip and several stainless screws are in the package to help you with the installation. But then, it's inevitable that you may need other types of materials and parts. Boat owners who purchase some essential things didn't complain since this stern light serves its purpose well.
I like that it's not as bulky as the other stern lights. The pole is dependable because it's made of quality plastic or poly. The battery compartment is great as it's large enough to accommodate four pieces of AAA batteries. Hence, there's no need to bind the sides.
What We Like
Bright and strong for marine use
An all-around light that can be seen from miles away
Can be mounted in different ways and even for customization
The suction cup doesn't come off even though the vessel moves at a high speed
Not relatively bulky with a dependable pole
Has good battery compartment
What We Don't Like
Need to buy other types of materials and parts when customizing the mounting part
These white boat lights and their poles can do amazing things. This product is one of the leading battery powered navigation lights that you can find in the market. Hence, it's worth buying for your vessel.
Battery powered navigation lights for boats come in several distinct ranges of visibility, an arc of illumination, and location. Variations of colors are also available. Here are their distinct forms.
Boats operated with a motor or engine need a masthead light. It's a white light that beams forward and creates an arc of 225 degrees. This has to be placed at least a meter apart and on the top of the sidelights. The acceptable range of its light is two nautical miles. It's fine to not add this light on sail boats.
Navigation boating lights also stay on the boat's left and right sides. Hence, the term, 'sidelights', came into existence. The green light is placed on the right while the red light is on the left. This pair of lights should go beyond one nautical mile and it's most suited for boats that are up to 12 meters long. As you can see, it only offers a limited range of scope, which is not relevant to the needs of larger vessels.
Stern light is the white light found at the stern or rear section of a vessel. With this, the vessels behind you can see you.
This is required for vessels that are less than 12 meters long and powered by an engine. The effect of this light is similar to combined masthead light and stern light. Once you have it, you're visible from any direction.
Benefits
There are several perks to take advantage of when you add excellent battery operated boat lights to pose as navigation lights. First of all, they're convenient and practical to use because you don't need to hardwire an electrical system. You can call it wireless boat navigation lights! Moreover, it's reliable in times of emergencies like power outages and other unfortunate circumstances.
This type of light is generally uncomplicated to install, provided that you follow the instructions in the user manual. You don't need the skills of an expert to put things in order. In most cases, you only need to clip or mount it effortlessly. They are also built with durable construction to last in a marine environment.
You can't only get brightness from them but various colors that meet your needs or legal requirements. Thus, you remain seen despite dark areas or bad visibility. Safety and security are guaranteed when you have them in your boat. Controlling or operating them is super easy. They're crafted as portable items that can be stored with no complications. In addition, it's not a burden to take them everywhere you go.
Even though these battery powered lights offer several benefits, they come with an affordable price tag. It won't be challenging for you to get the right size and color for your boat. Consequently, the case of battery replacement is the same. You can get them without trouble from stores. They can last as long as you work on caring and maintenance.
There are so many battery powered lights in the market, but only some are reliable in providing good service. To get your money's worth, you can search for reputable brands. You won't be sorry when you get battery operated navigation lights from Attwood, Bright Eyes, Shoreline Marine, Innovative, Lighting, Botepon Marine, Deals4you, and Aqua Signal.
These companies are recognized in the marine industry as producers of top-quality products. You don't have to be bothered by issues when you use the lights that they've created.
Navigation lights won't allow you to go astray in the dark. Every human-powered vessel needs a masthead light and stern light regarding this matter. They're like a pair of safety lights when you go out at night, dawn, dusk, or with low visibility in the waters. Unlike powered vessels, you don't need the starboard and port sidelights in the same color.
A white light that beams in various directions will be fine for human-powered vessels. However, you'll need starboard and port lights when you maneuver a larger vessel.
It's a green light that is always on the right or starboard side. The main role of this light is to let others be aware that you're approaching. You can compare it with traffic lights as the green color also means go. Turning this green light on will make you obtain the right of way. Although you have it, you still need to be careful with your actions to prevent collisions and accidents.
On the other hand, the port side appears in red and it notifies other vessels that you intend to pass on the left side. You also place it on the left side and it has the same nature as traffic rules. When you see this light, you have to stop and give way to other boaters.
Do you ever wonder why there are red and green navigation lights on the vessel's sides? As mentioned, these lights are not different from the traffic lights when it comes to meanings and significance. Red is about stopping and green is a go signal. Always remember that these colors have a permanent place on a boat. The red light is always on the left or the port while the green one is fixed on the right or the starboard.
The majority of the boaters prefer the port side when passing other vessels. When it happens, the red light needs to be flashed. Be mindful of flashing the green light as it means asking for the right of way. Upon seeing the green light from another, you have to prepare to give way.
Conclusion
You won't regret investing in the best battery powered navigation lights as they can provide the much-needed illumination and service for a decent period. Crossing the waters at night, after sunset, and before sunrise is safe and easy because of their brightness. So, don't forget to turn them on when you're underway or your boat is moored.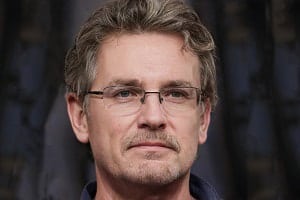 "I am James Harvey – founder of Boating Basics Online. It is established with the drive to help out first-time boaters, which are those desiring to explore their way through the water. So if you are new to boating, start from here with me. "