The best anchor windlass, simply put, makes any sailor's life less of a challenge. Once you pair with the most suitable windlass anchor system for your boating setup, it would seem like the perfect marriage. Once it starts hauling and lowering the anchor for you, you just can't do sailing and fishing the same way without it.
Anyone with back-breakingly heavy anchors should definitely consider an electric windlass for that sole reason. The best ones out there not only save plenty of effort and time but also power. Here are three factors you should not miss when deciding:
Pulling Power: Concerning a good anchor windlass's reliability, it should be able to have adequate, if not abundant, pulling power. Windlasses are more powerful than most winches, so they normally win the anchor winch vs windlass battle when it comes to that. Additionally, that's why you see a hydraulic anchor windlass on larger ships. So, you should make the most out of it.
A 24 volt anchor windlass is sufficiently powerful for most applications. However, you should really look at the total number of pounds it can handle. The higher that limit, the more powerful.
Durability: Anything mostly or entirely made of stainless steel or is genuinely marine-grade is guaranteed to last for years and is saltwater-friendly. It has to be adequately waterproof to protect the motor. What's good is that most of the brands, especially the ones featured here, get this right. If you're going to settle for a used anchor windlass for sale, never overlook these facts because they dictate the remaining mileage you can get out of them.
Ease of Installation: Installation, in terms of windlasses, is something you don't want to mess up as much as possible. After all, who would want to end up with five extra holes in a vessel just because they got the orientation wrong? Horizontal windlasses tend to be easier to install because everything is set up above deck. That being said, it helps to have clear, complete instructions.
It's safe to say that you're looking for one yourself. If so, I suggest you read my boat windlass reviews, which expound on my various experiences with the windlasses I've tried over the years. I can say the same for other seafarers I've gotten to discuss these handy tools with.
---
Lewmar 6670011108-312
Anchor lock feature
Vertical, compact design
5-year warranty
---
Five Oceans Pacific Anchor Windlass
Superior power
Install not too complicated
Corrosion-resistant
---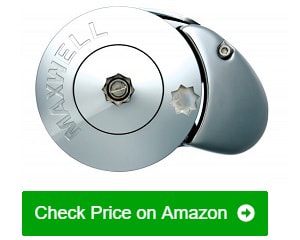 Maxwell RC8812V Windlass
Built to last
Consistent performance
Adequately powerful
---
Top 11 Anchor Windlass Reviews
1. Lewmar 6670011108-312 Vertical Windlasses
A Lewmar creation that fits the high-quality bill, I can't be more impressed by the fact that it's saltwater-friendly and extraordinarily space-saving. It performs as expected and comes with a 5-year warranty.
My first introduction to Lewmar was one of their winches. It didn't take long for me to try out their windlass anchor kit partly because of the performance I got from the winch on my smaller boats, and the fact that I needed support for anchoring on my larger center console. I was instantly hooked by the incredibly polished and solid construction of this bad boy.
That means I don't have to worry about it getting damaged for a long time, and the 5-year warranty only added to that. And sure enough, I've been using this for 7 years and counting, and it still hasn't shown signs of malfunctioning. I did encounter a few hitches recently like the anchor not pulling up properly, but most of them are because of faulty control that I only needed to replace.
I frequently take my center console to Cape Cod, and I love to do so precisely because this windlass has consistently made anchoring a breeze for me. It's adequately powerful as it can handle 700 pounds, and I particularly appreciate the anchor lock feature, which keeps my anchor steady when deployed.
The installation is just good, not overly easy, and not too hard. You have to be sure of the cabling. The vertical orientation fits it right in the limited space of the pulpit, and the general design is not without its inherent appeal.
So what are my only gripes about it? They're mostly minor. I would have preferred to be able to free fall the anchor remotely and not have to sit next to it just to activate. Secondly, I'm not a fan of the fact that this anchor windlass kit doesn't come with a helm switch or foot remote, either of which is a fairly reasonable inclusion considering the price.
What We Like
Stainless steel, rust-resistant, and salt-water friendly construction
Not that hard to install
Anchor lock feature
Vertical, compact design
5-year warranty
What We Don't Like
Manually activated free-fall feature
It's not for nothing that Lewmar is one of the most recognized and well-respected brands when it comes to marine gadgets. This Lewmar windlass gives us the exact reasons why.
2. Five Oceans Pacific 1000 Anchor Windlass
This marine windlass is a paragon of power and durability. Performance-oriented doesn't even begin to describe the kind of close to automatic, no-nonsense anchoring you get out of this.
I've only been using this windlass anchoring system in my Virginia Beach and Lake Erie excursions. I installed it on one of my new cabin cruisers, a 30-foot beauty that I intended to use more for fishing. I reckoned I needed a more powerful windlass that's equally durable.
Almost immediately, I considered Lewmar and Five Oceans. This 1,000W one stood out to me because of its thicker construction. It's evidently corrosion-resistant, but given the short time I've used it, I can't confirm this 100% yet.
However, if we're going to pit power against durability, which is two of its main strengths, I'd choose the former any time. In almost all my fishing trips, I've had to deal with loads and loads of seaweed. I mean the kind that gets stuck and adds an extra 200 pounds to the heft. Well, all of that's just a piece of cake for this monster – no struggle, whatsoever! And it does so consistently.
It's not that hard to install but you just have to be mindful of the template. Don't use the arrow as a reference and only stick to the dotted line. I like that, for the price, you get a footswitch included, which can be installed on the bow or console.
It's pricier than the other 1,000W windlasses I've bought, but I got my money's worth. Nonetheless, considering its high end price, I would have liked it to include an automatic free fall capability.
What We Like
Superior power
Comes complete and ready to be installed
Install not too complicated
Corrosion-resistant
What We Don't Like
Free fall manually activated
Expensive
Good windlass reviews have also featured this windlass in the past. I agree with most of the positive qualities they highlighted, but based on first-hand experience, these are the reasons that give it the most value.
3. Maxwell RC8812V Windlass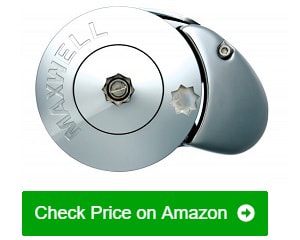 A heavy-duty, notably powerful anchor windlass, I like this Maxwell windlass for its versatility when it comes to the different chains that it can accommodate and the fact that you can retrofit it without the need for disassembly.
This is another brand that I have a lot of faith in. It's my go-to brand if I'm aiming for something to handle any kind of anchor setup I have in place. The fact that it supports a 5/16 chain and ⅝ rope combination highlights its heavy-duty quality. It's able to handle 500 feet of anchor rode without floundering, and the retrieval is fairly quick.
I've taken a 2004 Carver 460 voyager with this windlass to many of my Lake Erie fishing trips. It has only ever given me a great performance in all those times. It's the kind of windlass that delivers, once you get it properly set up, to the point that relying on it for most of your anchoring becomes automatic.
I'd be lying if I said that I didn't love the marine-grade stainless steel the moment I laid my eyes on this. I've been using mine for more than four years, and it still retains its shine and has no sign of rust damage. You can expect as much from a household brand like this.
The combination of power, durability, and versatility leads to outstanding reliability. I don't remember any instance this struggled with all the extra seaweed and muck it hauled on board.
I only have one big qualm about this product and most Maxwell windlasses I've used. I don't particularly like that their install instructions are too concise. It may be adequate for a savvy sailor, but you may miss key details if you aren't too familiar with how a typical windlass is installed. Still, almost all Maxwell windlasses are well-engineered to make deck installation uncomplicated.
What We Like
Works well with
Consistent performance
Built to last
Adequately powerful
What We Don't Like
Installation instructions are too concise
Windlass manufacturers that have gained a solid reputation are few. This is one of them, and this product's qualities tell you why.
4. LEWMAR 6656811967-303 Horizontal Windlass
This Lewmar horizontal windlass provides a solid option for those with minimal deck space. It has decent pulling power and a free fall feature, while also being space-saving, durable and not hard to install.
I bought this years ago for one of my very first sailboats. It's a 25-footer that I cruised with on an almost monthly basis. I had plenty of time back then, and this windlass definitely made boating life easy for me and fueled my passion for it more.
I like that the kit it comes in gives you everything you need. I didn't have to buy separate mounting studs for the installation. It also came with push-button control and a toggle switch for more convenience. Overall, I can say that it's one of the first user-friendly windlasses I've used.
Installation went fairly swiftly because I already have experience installing Lewmar. The brand didn't pull any punches when lending an extra hand because they even included a template for drilling holes and mounting to accommodate the rode and chain. It took less than an hour, which is quick for most DIY jobs.
Its power is enough for most medium-sized anchors and below. Don't expect it to compete with higher-end options out there, but don't underestimate, too. While it did struggle with seaweed on rare occasions, they're fairly mild issues that got resolved quickly without hiccups. I only needed to do the usual pull-up trick when the anchor snags.
I know that most horizontal windlasses naturally save more space than their vertical counterparts. To me, this one saves even more because of the overall compact design. I like that it manages seawater well, too. My own unit has been splashed with it thousands of times, but it held up well until I had no other choice but to replace it due to its age.
Besides the rare problem it has handling seaweed, I'd say another improvement could be an automatic or remote free-fall option. Again, I don't want to have to manually trigger it by going to the unit every time.
What We Like
Complete kit
User-friendly and adequately powerful
Saltwater-friendly
Relatively easy to install
Space-saving design
What We Don't Like
Free fall feature included but needs to be activated manually
This is a great horizontal windlass anchor for those with boats that don't exceed 30 feet. It's one of the more complete kits here. Considering its user-friendliness, I'd recommend it to beginners in a heartbeat.
5. Pactrade PDSA0317 Electric Anchor Windlass
This, to me, is a budget-friendly windlass anchor winch for those who like to do solo fishing on a pontoon or any other similar small vessel. It's made of marine-grade materials, can handle anchors weighing no more than 20 pounds, and is reliable on the whole.
This windlass reminded me more of a winch than a traditional manual windlass. I'd say it fits the windless anchor winch label perfectly with that considered.
I like to do recreational fishing from time to time. In such cases, I prefer to bring a more solo-oriented vessel with a winch for obvious reasons. For that, I often rely on a winch, but the fact that this is advertised as a windlass definitely caught my eye.
Right off the bat, I was expecting it to be more powerful. Well, while it did have sufficient pulling power, it's not exactly the output of a typical windlass. I'm really more inclined to think it's a winch, since it's, more or less, the same in construction and capacity.
That being said, it's reliable, at best. I often use a grapnel anchor with it, and the good thing is that the lake near my home mainly has a rocky bottom. It does its job without giving me the usual hassles (e.g. free-spooling), and to me, that's the most important thing.
The rope it comes with is also worth praising for its overall soundness. It kept me steady in all the times I used it. I did inevitably replace it with a monofilament fishing rode, which allowed me to work with a longer line.
That's another aspect I appreciate about it: it's customizable, particularly when it comes to the anchor rode you want to use with it. That is, as long as you're not going over its capacity.
What We Like
Made of durable, marine-grade materials
Adequate pulling power for light anchors
Proven reliability
Rode can be changed
This is more of a lightweight, in more ways than one, windlass considering its overall design and anchor capacity. It may not work that great with a full-sized vessel, but if you prefer pontoon fishing, this is a consistent performer that will give you all the anchoring help you need.
6. Lewmar 66910441 Windlass
Another windlass for small boats that's made by a recognized brand, this Lewmar creation fits lightweight anchoring purposes. It does the job well and quickly, especially if anchor reeling is the topic. What's even better is that you can get it for far fewer bucks than others made by this brand.
A friend of mine has this on his 22' Grady Offshore. I've gone fishing on his boat numerous times already to know this little gem of a windlass's remarkable performance. I particularly like that it's quick to bring up any anchor, assuming it's within the weight limit, that you hook up to it.
We like to frequent Lake Erie with his vessel, and for all the extensive time we've spent fishing, it still hasn't shown any signs of significant salt damage. That's four or more years of regular use, as far as healthy fishing habits are concerned. I credit the entire stainless steel construction of the cover, and my friend echoes the same thoughts.
The rope it came with has since been replaced by my buddy because it tends to wind up, but it's decent overall. You pay for the high-quality materials, which are the motor and the long-lasting cover in this case.
What We Like
Good value for the price
Highly affordable
Powerful anchor pulling capability for its size
Saltwater-friendly
Proven durability
What We Don't Like
Included rope tends to wind up
Most windlass anchor reviews fail to highlight some of the windlass gems out there, especially the ones that are already similar to a winch in terms of anchor weight capacity. This windlass for 25 ft boat's top-notch durability, surprising power, and saltwater-friendliness prove you don't have to always settle for the big guns.
7. Five Oceans Atlantic 600 Anchor Windlass
If you're aiming for maximum quality, this windlass is sure to deliver. To me, it's just as powerful as the other Five Oceans windlass I own and has the same kind of toughness, both of which can be enjoyed for less than a few hundred dollars.
This is one of my first experiences with what can be deemed as a truly high-end windlass. I say that in the highest sense of the term. After all, I've yet to own a windlass, other than the one from the same brand, that has this much durability.
It's been on my 33' center console for close to eight years, and it hasn't shown any notable signs of depreciation. There's zero presence of rust, and I have only been doing minimal maintenance on it through the years. I've taken it to numerous saltwater and freshwater fishing trips, and it has only ever given me all the anchoring conveniences I wanted from it.
This kit is slightly cheaper because the windlass, as a whole, is less powerful than the others that it shares a product line with. It's only 600W compared to the 1,000W found in other windlasses. But, of course, that kind of output is still no pushover compared to windlass products available nowadays.
I can't cite any significant downside with regards to this windlass. Sure, it's not as easy to install, but the instructions are detailed enough to ensure a correct setup. Okay, I admit that I'm not exactly a fan of the high price tag, but that's literally the sole complaint I have about it.
What We Like
Proven to last for years
Reliable performance
More budget-friendly option from a high-end brand
Made entirely of stainless steel
What We Don't Like
Costs thrice as much as most windlasses featured here
What more can I say? This product pretty much lays out the exact reasons why the Five Oceans brand has been around for decades. Five Oceans windlass reviews frequently include this at the top because it ticks all the necessary checkboxes outstandingly.
8. Lewmar 6656411108-102 Windlass
With an automatic free fall feature and powerful motor, this one fits the bill if you also happen to be working with a relatively larger vessel. It's brimming with durability, too.
I needed a windlass for my bigger 36' Sportsman boat, which I and my buddies love to take during our annual and semi-annual get-togethers. I instantly loved its free fall feature since it's automatic. If you tend to anchor a lot like me and are familiar with the best spots to drop it, you'll love the unrivaled benefits of this feature.
It's been with me for close to three years now. As of this writing, it has weathered most of the storms that it faced, which are relatively fewer compared to other vessels I've manned. The stainless steel finish is as sleek as it is sturdy, so I have no complaints there whatsoever.
Its performance and power are two of its main strengths, to me. For one, unlike other products I've used, it has never given me a rode headache (i.e. the rode ending up in a tangled mess when I pull it up). Secondly, it handles my heavier-weight anchors and the extra load that comes with them without struggling too much.
If there's one component that needs improvement, it's the cranking mechanism. Sometimes, it needs to be manually cranked, which isn't something I particularly like to have to do in my windlasses. Other than that, I can't find any other major faults.
What We Like
Automatic free fall
Suitable for larger boats and heavier anchors
Sleek and durable stainless construction
Superior power
Prevents rode from piling up
What We Don't Like
Crank has to be turned manually at times
It may not be a perfect windlass but this is one windlass for 30 foot boat that has never given me a problem for the three years I've used it. That alone allows it to earn its spot here.
9. Powerwinch P77727 Anchor Windlass
This windlass will wow you with its free fall capabilities. Add to that the decent pulling power and the superb durability, and you pretty much get a solid windlass that gets the job done.
Precision and quick free falling when anchoring will always be my thing, and I love that this windlass has always outshone the other ones I've owned when it comes to that feature. I use it on my 35' center console with a 30-pound Danforth anchor. It drops anchor as quickly as it advertises.
Take note that you need a relatively heavy anchor to enjoy speedy and precise anchor drops every time. I've tried it out with a 25-pound Danforth, and it's just not the same. That's one complaint I have, but I know the exact reason why that's the case, so it's still a minor issue.
The pulling power is decent, but it's to be expected given its capacity. It's not too strong and not too weak, just enough to raise my heavy anchor every time. What sealed the deal for me was that it never once jammed in all the two years I've used it.
I can say the same for the construction and the overall durability. It's still great, but not too outstanding. I appreciate the inclusion of stainless steel on parts that require the most rust protection.
Overall, this is the kind of windlass that embodies the saying, "You get what you pay for." And I mean that in a far more positive sense. It's an affordable option that will deliver above-average performance.
What We Like
Excellent free fall feature
Decent pulling power and durability
Has never jammed based on experience
Affordable option
What We Don't Like
Needs a heavy anchor to make the most out of the free fall feature
I appreciate Powerwinch windlass reviews that share the same thoughts I have about this anchor. It's still a gem in my eyes considering its overall reliability and error-free performance – at least, in my own experience.
10. Five Oceans Horizontal Windlass
Five Oceans remains one of my favorite brands precisely because of products like this. It's generous in power and durability, which equates to better reliability. Design-wise, it's hard to beat.
I really appreciate the fact that this windlass did not take long for me to install. It only took me less than an hour to set it up on my sportfishing boat, and yes, that already includes the wiring. That's way less time I spent on other windlass setups without relying on professional help, and I mainly credit the kit it comes in, which gave me everything I needed.
How does it fare when it comes to performance? I placed most of my bets on the motor when I bought it, and I'm glad I did because it's noticeably powerful. I can't name plenty of other brands that pack the same amount of punch in pulling power, and I'm talking about handling seaweed-laden 30-pound Danforth anchors with relative ease when I say this.
When it comes to durability, it delivers precisely what I've come to expect from this brand. This is one of my newer windlasses made by this brand, but I'm already confident that it will last for years because of the stellar stainless steel used. I just hope I can say the same for the motor.
My complaints? Well, I only have one. It doesn't have a free fall feature. Basically, I'll have to pull the rode to the pully's side to make it drop faster, but I'm not too keen on doing that regularly because it's not designed for that purpose.
What We Like
Easy to install
Great for those with minimal locker space for the rode
Excellent power
Superb durability
This is one of the rare windlasses that I won't hesitate to say is better than established brands like Lewmar. Want more power and durability with minimal to no hitches when anchoring? Get this.
11. Maxwell HRCFF812V Windlass
It's hard to not have favorites, especially once you've given this windlass a try. It has an automatic free fall feature, marine-grade construction, and an exceptionally powerful motor.
In most cases when Lewmar or other brands fail me, Maxwell almost always manages to save my fishing trips for me. That has been the pattern for me in recent years, and I can safely say that this Maxwell offering can vie for the top spot at any time. For one, it's got the power and all the features and perks I'm looking for.
I love that you can activate the automatic free fall from the helm. The power-down option is just as good, but if you like to save lots of time like me, this windlass practically does so for you with its free fall option. It has few rivals when it comes to that.
I've been using this windlass for a good portion of five years already. It served as a replacement for an old Lewmar on my center console. In all that time, it has never snagged the anchor once, and if it did, it's more because of my choice of anchoring spot than anything else.
Of course, I can't forget about the power. It's the kind that pulls 35-pound anchors without any issue. That, plus the equally commendable toughness of the materials completes the entire thing for me.
Lastly, its install instructions are just as complete. These are the exact reasons why if this ever becomes available with a discount, it's certainly a good windlass for sale – if not entirely excellent.
I have to point out one flaw, though. The included chain stripper was made of plastic, and it didn't take long for it to warp. I had to replace it in less than 3 months of use.
What We Like
Automatic free fall feature
Exceptional power and durability
Excellent and hassle-free control setup
Uncomplicated installation
No snags based on first-hand experience
What We Don't Like
Plastic chain stripper tends to warp quickly
Not all windlasses can open up new ways of anchoring or guarantee that you can truly enjoy a solo boating experience. This product's combination of perks proves it belongs among the excellent few.
Other Factors To Consider When Choosing An Anchor Windlass
What, to me as an avid sailor and boater, is the right electric anchor windlass? I usually don't depart from these factors:
Free Fall
I can't get enough windlasses with free fall features because they save me a lot of time and effort. I do only use it on lakes whose bottoms I'm already familiar with and make sure that I'm using an anchor with enough heft.
Automatic free fall means you get to activate the feature without having to manually trigger it on the built-in switch attached to the windlass. You need to be able to do it remotely through the helm if you want the best kind of convenience. Manual is also good, but you have to always be near the windlass to activate it.
Locker Space
You want to make sure the windlass you're using can accommodate the entire rode with regards to the total capacity of your locker space. In most cases, horizontal windlasses take up less space than their vertical counterparts.
Availability of Spare Parts
This one's often overlooked. If you're planning to buy an aftermarket windlass anchor system for cheaper prices, you'll most likely have to buy a separate part to replace a broken one (e.g. a damaged motor or something more specific like the chain stripper). Not all brands offer spare parts nor can they guarantee that supplies will always be available.
The Different Types of Anchor Windlasses
There are only two different types of anchor windlasses. They're commonly classified based on their orientation, which more or less, affects the anchor windlass operation.
These are preferred because their rodes tend to take up less locker space and are usually easier to install since everything is set up above deck. This means you won't have to make a hole on your deck to install it.
Vertical windlasses are not without their own unique range of benefits. For one, they take up less space on the deck, and there are brands that capitalize on that by making their products more compact. Another benefit is that the chain and rode tend to have a more secure wrap around the gypsy due to the orientation.
Benefits and Drawback of Using an Anchor Windlass
As far as most boaters can tell, an anchor windlass assists you in all your anchoring needs. The way it makes raising the anchor less of a hurdle to overcome each time you go out fishing or cruising on your own underscores its value.
If you have a poor back or any condition that lowers your ability to haul an anchor, a windlass is a must. Overall, it makes fishing on your own always viable and enjoyable.
The most immediate drawback for me and many boaters is the cost. For context, let's look at one of the most expensive Lofrans windlass products available today. It sells for a whopping $4,250. $1,000, which is the average cost of the windlasses I've used over the years, is not exactly cheap as well.
Why Is An Anchor Winch Called A Windlass
This is often a misconception or mislabeling because both fulfill the same function of raising and lowering the anchor. That's why some brands label their windlass as a winch and vice versa. A windlass is different from a winch in that it accommodates more rode combinations and a chain, while a winch is fairly limited. The same goes for the power: expect windlasses to be more heavy-duty.
How To Install An Anchor Windlass
This depends, as I've said, on the orientation. Horizontal windlasses often only need to be screwed onto the deck and would therefore require you to drill holes in the right positions. Vertical windlasses have motors that will require you to make room below deck and will therefore need more changes that entail dismantling a portion of your deck.
The procedure step-by-step is an entirely different topic altogether. It's always best to refer to the manufacturer's instructions. If you want an actual demonstration, I suggest you watch this video.
How Do You Use A Windlass Anchor
Whether you're controlling the windlass remotely through the helm or on its built-in switch, it's fairly straightforward. There will be buttons for lowering and raising the anchor. You only need to push down to lower the anchor to your desired depth and push up to raise it.
If there's a free fall feature, it's most likely triggered by a specific set of actions that will be instructed to you by the manufacturer. Otherwise, it may be done with a single button push. Once you've lowered it to your desired depth, you may use a lanyard or a safety strap to keep the rode or chain locked in place.
How Do You Maintain The Windlass Anchor
Most windlasses are built with durability in mind, so you don't have to worry too much about maintenance. This is especially true if they're made of stainless steel. A little polishing and cleaning on a monthly basis will suffice for these kinds of windlasses.
That being said, it won't hurt to check the motor for any signs of water damage from time to time. Inspect the wiring for anything amiss. Lubricate most of the moving parts to keep the operation smooth. Lastly, don't forget to check the rode you're using and make sure it's still achieving the right amount of tension and hasn't been damaged before setting sail again.
Will A Windlass Pull Rope
No. It's not compatible with rope. Many brands like to label their winch as a windlass, and the former can definitely work with rope. That has probably only led to this confusion.
Conclusion
What can I say about the windlasses I've tried and featured here? It's that you don't have to pay $2,000 or more just to get one that will make your solo fishing and boating trips a whole lot more convenient. At the end of the day, the best anchor windlass, to me, satisfies that factor while still managing to bring its much-coveted benefit and do so for a long time.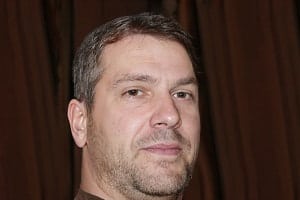 "My intention from the first day establishing Boating Basics Online is to provide as much help as possible for boaters who want to experience a first safe and convenient trip. So feel free to join us and share your beautiful journeys to the sea!"